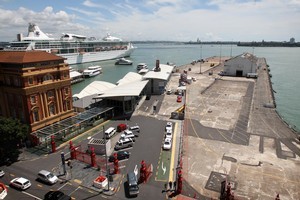 The Rugby World Cup "party central" will be "a destination second to none" and will be ready in time for the event, Auckland Waterfront Development Agency chairman Bob Harvey says.
His comments follow criticism from former All Black Marc Ellis that $14 million was too much to spend on a temporary structure at Queens Wharf, which he described as "the wrong end of town".
"I think they should be putting a temporary tent in Victoria Park and all you'd have to do to market it is say it is the biggest audio-video screen in New Zealand history. Victoria Park is right by Ponsonby, so it is in the right place," Mr Ellis told the Otago Daily Times.
Mr Harvey said Mr Ellis was "a little out of touch".
"The fan centre is locked in place," he said. "It's all on time."
"Party central" has been mired in controversy and disagreements - from its location on the waterfront to the heritage merits of two 100-year-old cargo sheds on the wharf.
Late last year one of the sheds was dismantled, while the other will be refurbished - at a cost of $4 million.
The temporary building - dubbed The Cloud - will host around 6000 people for a range of events, including a Tourism New Zealand visitor site, VIP functions and concerts.
Work on the $9.8 million steel fabricated building is due to start on Monday.
"It will be finished by end of July," Mr Harvey said.
"We are very happy - and I think Auckland will be delighted.
"It will not just be a 'fan centre', but there will 30 events to draw people. People are not just going to wander in after dark.
"The city is going to be alive and the fan centre will be a destination second to none, for Aucklanders and visitors."
In addition to "party central", there will be "fan zones" at Albany, Henderson and Manukau in Auckland and across the country.
In Wellington, World Cup celebrations will be centred around the new $11 million Wharewaka o Poneke near Taranaki Street Wharf, which is due to be opened at a dawn ceremony on Sunday.
The World Cup fan village will be at Odlins Plaza outside of the Wharewaka, but will also utilise areas of the new building, which showcases Maori culture.
The village will feature a large outdoor screen broadcasting the games live, circus and street performers and musicians.
Wellington City Council last year voted to spend $150,000 over two years as part of the Annual Plan to create the village and lease the Wharewaka for the duration of the tournament.
The council is also commissioning Weta Workshop to design a statue as a centrepiece of the village.
In Christchurch, a fan zone will be built in Cathedral Square, with a mini rugby field, stands for the crowds and large outdoor screens showing all the matches.
Dunedin, however, will not be hosting an accredited fan zone for the Rugby World Cup, as the council does not believe it will see a financial return from it. A fan zone had been considered in the Octagon, but the council last week decided it was not affordable.
The council's marketing and communications agency manager Debra Simes said council did understand the importance of the event and there would still be some celebrations during the event.