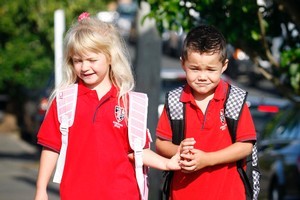 Five-year-old Caleb Woodley was excited to start his first day in Year 1 at Kohimarama Primary School despite suffering from a knee infection that left him in Auckland's Starship hospital over the weekend.
His father, Rob Woodley, said the brave new student was on the mend after a round of antibiotics and especially looked forward to playtime at his new school.
"He was determined he wasn't going to miss his first day," said Mr Woodley.
Classmates Anastacia Campos-Ballinger and Tiffany Thompson were also excited to start their first day, which began with a welcome song followed by introductions of all the 10 new pupils in Room 4.
They are among 58,987 children who will start in Year 1 this year.
Anastacia's mother, Kim Ballinger, said visiting the school the day before and talking to her daughter about the school routine had helped her to feel more comfortable about the first day.
"She was dying to get here so we have ended up here quite early," said Mrs Ballinger.
Deputy principal Lesley Demler said the first day of school was nerve-racking for new students and sometimes even more so for their worried parents who found it difficult to say goodbye.
She said the key to making the children feel comfortable in their new environment was settling them into a routine.
"Imagine how many times they have been asked, 'When are you starting school?'
"There is a real build-up," said Mrs Demler.
Gladstone Primary School in Mt Albert is among many across the country which are choosing to start the school year later.
Principal Dave Shadbolt said he expected a very busy first day back tomorrow with the arrival of 39 new students.
Mr Shadbolt said schools could open at any time during the Ministry of Education determined time-frame as long as they met the requirements for the number of half-days they were open during the entire school year.
The earliest schools could open was Monday, January 31 (apart from Auckland schools because of Auckland Anniversary Day) and the latest is Monday, February 7.
Blockhouse Bay Primary deputy principal Dorothy Howard-Smith said 23 new students were starting in the 2011 school year, which has been rearranged around the Rugby World Cup.
The first two terms will be slightly longer than usual this year whileterm four will be two weeksshorter in order to align the October term holiday with the final stages of the tournament.
"It has made the last term very short but with the planning of assessments we will still maintain a manageable schedule," said Mrs Howard-Smith.
Education Ministry spokeswoman Megan Heffield said the sector, including organisations representing parents and principals, agreed that there was a national interest to be served in making adjustments to the 2011 school year.
"The total length of the 2011 school year remains unchanged.
"The Rugby World Cup will be, for many, a once-in-a-lifetime opportunity for families to celebrate one of the world's biggest sporting occasions," said Mrs Heffield.
"Changing term dates will free up time for students and their families to travel to games and to make it easier to be part of the occasion."