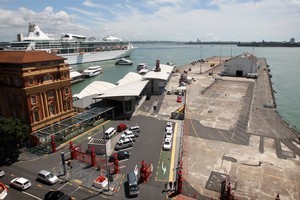 Former All Black Marc Ellis is not happy about spending $14 million to turn Queens Wharf into "party central" for the Rugby World Cup and has suggested a temporary tent at Victoria Park instead.
Ellis, who played in the 1995 World Cup in South Africa, told the Otago Daily Times last month the political bickering over Queens Wharf was a disgrace and not getting him excited.
"It is rat s*** really. It's in the wrong part of town and to spend $14 million on a temporary structure against somewhere where you can put a tent up and then mow the lawns at the end of it.
"I think they should be putting a temporary tent in Victoria Park and all you'd have to do to market it is say it is the biggest audio-video screen in New Zealand history. Victoria Park is right by Ponsonby, so it is in the right place," Ellis said.
After months of heated arguments over a cruise ship terminal and the heritage merits of two century-old cargo sheds, it was announced last October that a $9.8 million temporary "Cloud" would take centre stage on Queens Wharf for the cup.
There are also plans to refurbish Shed 10 at a cost of $4 million for the cup, and late last year Shed 11 was dismantled at the northern end of the wharf.
Shed 10 will get a new colour steel roof, repairs to its corrugated-iron-clad exterior and roller doors, cleaning and repair of the ground floor, repairs to the first-floor wooden deck, new power, lighting and fire detection systems.
The Cloud - dubbed the "Slug" by others - is capable of holding 6000 people for a range of big events, including a Tourism New Zealand visitor site, VIP functions and concerts.
Work on the steel fabricated Cloud is due to begin on February 7 and be completed in July.
Auckland Mayor Len Brown said a tent in Victoria Park would not fit the bill.
He said Queens Wharf would "absolutely go off" during the cup.
"Even if anyone did want to call a halt to Queens Wharf, work is already under way and breaking contracts at this stage is not an option," he said.
Rugby World Cup Minister Murray McCully said he was confident that Queens Wharf would "provide a fantastic experience during the Rugby World Cup, and I am sure that Aucklanders and our visitors will agree".
"The Government bought Queens Wharf because we recognised the value of this special site both for the Rugby World Cup and as a long-term legacy for Auckland."
Mr McCully said plans for events from music festivals to fashion shows and food and wine festivals would shortly be released.
- OTAGO DAILY TIMES / STAFF REPORTER