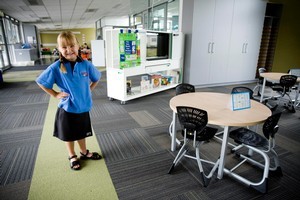 Five-year-old Portia Goldsbury is pretty excited about starting her first day at school this week - but the thing she is really looking forward to is the "cool slides" in the playground.
The new entrant is one of about 70 children expected at Stonefields School in Mt Wellington when it opens for the first time.
While the official opening won't happen until March, principal Sarah Martin says there are plenty of surprises in store for the first day of term.
The open-plan school - which has big rooms with modern furniture, beanbags and up-to-date technology - will eventually have about 260 students but there is space to expand and cater for up to 500 when the housing development surrounding it is finished.
Portia's mother, Jacqueline Goldsbury, who is helping to organise a walking school bus, said her daughter was "very, very excited" about starting at the new school.
She said some mothers in the area were worried about putting their children in a new school out of fear that they might be "guinea pigs".
But all Mrs Goldsbury can think of are the benefits her daughter will receive in the modern learning environment, which will have a high ratio of teachers to students.
She is also excited about Portia being one of the founding students of the school.
"It's history, you can't change that."
Portia is one of about 745,000 children who will start the school year and one of 58,000 who are new entrants.
Education Minister Anne Tolley yesterday wished the students all the best for the year.
She said she was looking forward to returning to Stonefields, where she helped to turn the first sod of earth last year.
"I'm so excited for them because it's a beautiful new school."
Ms Tolley said Stonefields, one of four new schools opening around the country this month, was completed earlier than expected after the Government moved the project forward to help contractors to find work during the recession.
The same fast-forwarding happened with Papamoa College near Mt Maunganui, which opens today for the first time with just over 400 Year 7, 8 and 9 students.
Other levels will be added progressively and about 1100 students from Years 7-13 are expected to be at the school in five years.
Other schools to open this year include Golden Sands Primary in Papamoa, which has 90 students already enrolled, and Ormiston Senior College in Flat Bush, South Auckland, for students in Years 11 to 13.
Around 100 Year 11 students from nearby Mission Heights Junior College will start at the senior college next Monday; other levels will be added progressively each year. It is estimated the high-decile school will eventually have up to 1000 students.