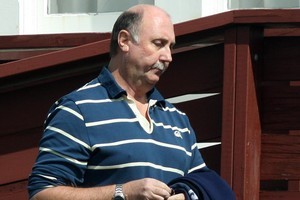 Security screening requirements around the Rugby World Cup are expected to add thousands of cases to the stretched workload of the Security Intelligence Service - already in the gun over lapses in its vetting of fantasist and former Defence chief scientist Stephen Wilce.
The SIS may have to run security screening on thousands of workers and volunteers with access to teams using an already pressured system. Checks on those born overseas could be even more difficult.
Concerns over the World Cup screening are made in a Government-commissioned report on the SIS role in the Wilce case, which concluded its vetting process was adequate but not "fully fit for purpose".
Wilce was appointed in 2005 but resigned last year when questions about the veracity of his background were raised.
Sports Minister Murray McCully said last night that he would discuss concerns about screening for the Cup with Prime Minister John Key.
"We're going to look very carefully at any issues that the report raises ... Obviously there is going to be a high-pressure time in which we need to have a good screening process."
He said there would be risk screening "on a number of fronts".
Vetting is more thorough than screening but sometimes screening can turn into a long process, rather than just running a name through a database. The degree of vetting depends whether the security clearance sought is confidential, secret or top secret.
Government departments and agencies employing people with access to highly classified information seek SIS vetting procedures, though the granting of a security clearance is ultimately up to the employing department.
Such were the lapses in the Wilce case that the head of the SIS is now re-examining 20 per cent of SIS vets done about the same time to determine if it was a one-off error.
An international review of SIS vetting procedures has been ordered, and is expected to be finished by March.
Mr Key said he had been assured by the director of the SIS, Warren Tucker, that in relation to the World Cup the system was "fit for purpose" and able to process such a large lumber of requests and give accurate assessments.
"For good order I think it is very important that system be peer reviewed and that's what is happening."
He did not believe there was anyone in New Zealand qualified to conduct the review so a British expert was doing it.
The report on the SIS role in the Wilce appointment was conducted by former Foreign Affairs Secretary Neil Walter. State Services Commissioner Iain Rennie made recommendations to Mr Key based on that report, and Mr Key has just released both of them - though he has a classified version of Mr Walter's report.
AT YOUR SERVICE
The SIS provides screening services for the maintenance of international terrorist watch lists; visa applications for our Immigration Service; citizenship applications processed by the Department of Internal Affairs; the issuing of airport identity cards by Aviation Security; contractors working at sensitive sites such as Defence camps; and special events such as the 2011 Rugby World Cup.