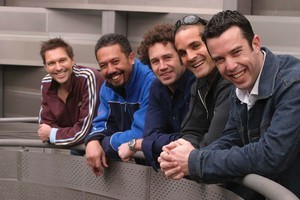 Convictions, addictions and disorderly conduct all par for the course for these big egos, says one television industry insider.
They were applauded for being "laddish" and outrageous on screen - but no one is laughing after a fifth panel member of the sports show Game of Two Halves got himself into trouble.
This week, Radio Sport broadcaster Martin Devlin, 46, admitted he had acted like a "right plum" after sitting on the bonnet of his car during a row with his wife in Quay St, Auckland.
Devlin was originally charged with disorderly behaviour, but was granted diversion.
He had fought to keep his name suppressed but later changed his mind.
His brush with the law follows high-profile scandals involving four of his cast mates on the top-rating TVNZ show - broadcaster Tony Veitch, comedian Mike King, and former All Blacks Matthew Ridge and Marc Ellis.
Ridge was the first to meet the long arm of the law in 2003 when he was fined $1500 for driving while disqualified.
Three years later Ellis was named in a so-called celebrity drug ring and convicted for possession of five ecstasy tablets.
In 2008 allegations surfaced that Veitch had assaulted his former girlfriend and in 2009 King revealed his 10-year addiction to cocaine.
A former Game of Two Halves insider was not surprised with the turns the men's lives had taken.
"They were all such big egos. Part of the culture or premise of the show was to let those egos go crazy, to push the boundaries. They were allowed to be a bit risque and they pushed the boundaries as much as possible every week," she said.
"It doesn't surprise me that they have fallen from grace the way that they have because they lived their lives that way too. They are all very opinionated, outspoken and strong personalities."
She said while on the show the five panel members thought they could get away with anything.
At least one of the men had to be told to tone his behaviour down on screen, while another was reprimanded for throwing a chair across the studio, damaging the set.
"They think they're above the law. They have this celebrity code of conduct that they think what they're doing is okay.
"They were known for their laddish behaviour but it translated into their real lives. But, they're not lads any more."
However, many have managed to bounce back from the brushes with personal disaster.
King is now sober. The former face of the Pork Board is now fighting for the rights of pigs, after seeing the conditions of animals held in crates in New Zealand
The practice is due to be phased out by the Government following protests and a media campaign.
Ellis continues to be involved in the successful Charlie's juice range and is still a familiar face on television.
The founding members of Charlie's recently sold a stake in the business, with Ellis pocketing more than $1 million in the deal.
Veitch has returned to his broadcasting career, working at Radio Sport.
Devlin, meanwhile, is working as normal for TVNZ.
Yesterday in a blog post, he condemned the sacking of Sky commentator Andy Gray for claiming female linesman Sian Massey did not know the offside rule.
The comments were not broadcast, but captured off-camera and leaked.
"Andy Gray has just received the harshest red card in football," said Devlin, adding that "some turdy-bum-rat colleague" had stolen the "intellectual property" of Gray.
He concludes: "It's something that could've (and should've) easily been handled with a quiet word behind closed doors".
Read Devlin's comments on Andy Gray at http://goo.gl/E2Dl5