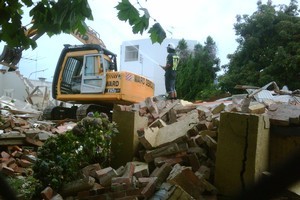 The art deco St Heliers cottages at the centre of a five-year battle between developers and heritage campaigners have been demolished.
Some of the about 20 protesters at the site were given bricks to keep as mementos as excavators knocked down the three historic houses.
"We have become a family down here ... and we have become so involved with these buildings," protester Jenny Boyd said. "We just want a little memory."
Lynne Scott, the secretary of the Save our St Heliers Society, described the demolition as a "tragedy" and the "end of St Heliers".
"I'm just so angry, because this is soul gone out of St Heliers - just like that - with a great big claw. It was like a big evil claw that just came down and it has taken the real soul out of this village.
"I can't believe the short-sightedness of this. In other countries, in Europe, they're keeping their history - we're just destroying it.
"That's the end of the battle - the war is still to be won."
Save Our St Heliers Society spokeswoman Dorothy McHattie said the destruction of the houses would forever change the character of the seaside suburb.
"It's a tragedy these colonial era and 1930s houses, that mean so much to so many people across Auckland, will be lost forever without an independent, thorough assessment of their heritage value."
She vowed to fight against future residential and commercial development sin St Heliers.
"This is not the end for us," says Ms McHattie. "There is still so much in St Heliers to protect and there are already development plans for other parts of the village.
"We will fight tooth and nail to keep the remaining character of this unique seaside village."
An appeal to stop the demolition of the Turua St houses was yesterday turned down by the Environment Court.
In a reserved decision, Judge Laurie Newhook said there was not enough evidence six houses on Turua St had heritage or historic value.
The fact the cottages were loved by many in the St Heliers community is not enough of a legal basis to stop the demolition, he said.
Peddle Thorp Architects director Richard Goldie said the Turua St houses did not qualify as heritage buildings under "robust" processes used by Auckland Council.
It is difficult to protect buildings like the Turua St on an assessment of character, he said.
"Included in our labyrinthine District Plan... is a schedule of heritage items including buildings. The Turua Street cottages are not on the schedule.
"Sometimes 'scheduling' appears to be at odds with what the public thinks and the Queens Wharf sheds are a good example. Character on the other hand is an even more slippery thing, not easily classified, hence not easily protected.
"Such is the case with the Turua Street cottages."
Ms McHattie said it was wrong the decision relied on a heritage report submitted on Tuesday by Auckland Council.
"The society strongly disagrees with the acceptance of this hastily produced assessment done by a party which cannot be considered impartial."
Save Our St Heliers Society spokeswoman Sally Hughes said his decision left many who had campaigned to save the houses - some for more than five years - in tears.
"There's only been a dozen of us in court but the people down on the street will be absolutely devastated.
"They have given their lives to this case. It's part of the fabric of their community and they care very deeply about retaining the character that St Heliers was based on."
The houses were about to be demolished last week when Mr Newhook issued an injunction stopping the bulldozers until the case deciding their heritage value was heard.
Auckland Mayor Len Brown said on January 17 there was no affordable way to save the cottages from demolition.
He had sought a delay to the demolition after councillors turned down an attempt to place a heritage order on the buildings by a vote of 14-7 on December 16.
"Absolutely everything that could be reasonably and legally done was done in this case, but unfortunately that was not enough."
A letter to councillors from Council Chief Executive Doug McKay said there was no evidential basis to impose or seek heritage orders to protected the buildings.
Buying or shifting the cottages would likely cost in excess of $10m, he said.
"The preferred position is to allow the developer to progress his approved and consented development.
"There is no appetite for spending this amount of money, is the sense I have from feedback to date."