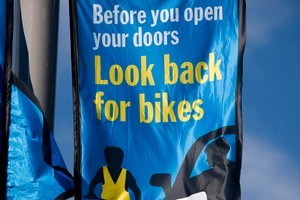 Motorists are being urged to check before opening their car doors on a notoriously dangerous stretch of waterfront road popular with Auckland cyclists.
Flags have been put up along Tamaki Drive - the busiest cycle route in the city - telling motorists: "Before you open your doors, look back for bikes."
The move follows the death in November of British cyclist Jane Mary Bishop, 27, after she swerved to avoid a car door being opened and was hit by a passing truck.
Car parking spaces at the scene of the accident, on the Orakei Wharf bend near Kelly Tarlton's aquatic complex, were quickly removed by the Auckland Council.
Cycle Action spokeswoman Barbara Cuthbert said the flags were part of an "everyday struggle" to raise the public's awareness of cyclists' safety.
"We've got to keep doing it every day. Somebody opened a door in front of me yesterday. It's part of a big education programme, and people have to learn to think."
Severe penalties were needed for motorists who carelessly opened a car door, she said.
"Because, as we've seen, the potential for really ghastly deaths is just too serious for the whole system not to take it seriously."
However, Ms Cuthbert said motorists' awareness of cyclist safety was improving, and praised the new council and its Auckland Transport subsidiary for its initiatives so far.
"Everything I've seen since Auckland Transport came into being shows me that they're taking the issue of safety really seriously."
Auckland Transport spokeswoman Sharon Hunter said the flags, which will be in place for three more weeks, were a direct response to Ms Bishop's death.
Other improvements have been made by the council on advice from a working group which includes Cycle Action Auckland and the Automobile Association. Clearways and speed indicators have been installed at points along Tamaki Drive, and a warning system installed at the intersection with Ngapipi Rd.
As well as these measures, a Share the Road safety campaign was launched in December to target cyclists and motorists across Auckland.
"It is a key message which needs to be pushed not only on Tamaki Drive but anywhere in the country," Mrs Hunter said.