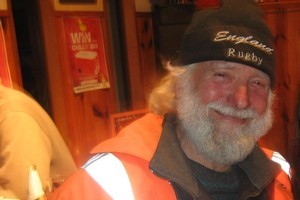 An elderly yachtie missing, presumed drowned, off the Far North coast did everything wrong and was an accident waiting to happen, say police.
Malcolm Waddilove, 77, has been missing since January 4 after he left Opua in the Bay of Islands, telling friends he was sailing to Australia to enter the country illegally.
His sunken yacht was found at the near Tapotupotu Bay, east of Cape Reinga at the northern tip of New Zealand, earlier this month. There has been no sign of Mr Waddilove.
Mr Waddilove's family in Britain was today told by police there was no chance he had survived when his yacht was wrecked, although they still hoped he would be found alive, said Senior Constable Chris Yarnton, from the Houhora police in the Far North.
Mr Yarnton also said today Mr Waddilove was an "accident waiting to happen".
He had a heart condition, his yacht was in a dire state of preparation for a trip across the Tasman, he was a stubborn sailor who refused to take advice and when he was last seen he was sailing only 150 metres from the unforgiving Surville Cliffs near Cape Reinga.
Mr Waddilove should never have left Opua, where he lived on board his yacht Boadicea, because of the state of the yacht and his health.
He had been told he needed cardiac bypass surgery but refused, and his yacht was dangerously unsafe, Mr Yarnton said.
Mr Waddilove, who once worked as a diver on North Sea oil rigs and off the coast of Taranaki, did not get customs or immigration clearance when he left.
A witness told police Mr Waddilove intended to sail to Australia illegally.
During an earlier attempt to sail to Australia, Mr Waddilove and his crewman almost came to blows a day or two after they left Opua. There was a virtual mutiny on board but Mr Waddilove refused to let the crewman off; police ordered him back to Opua under the Maritime Transport Act, because of the unsafe state of his yacht.
A witness who saw Mr Waddilove's boat tacking around the top of the country, said it was "making hard work of it", Mr Yarnton said.
"It was only 150 metres off the Surville Cliffs and no one in their right mind sails around there. They motor unless they are five to 10 kilometres off shore," said Mr Yarnton.
That witness motored to Mr Waddilove's yacht but did not see him on board. The witness said the yacht was festooned with "all sorts of junk".
Several hours after the witness spotted Boadicea, the mast was seen sticking out of the water at Tapotupotu Bay. There was no sign of Mr Waddilove.
The sighting prompted an aerial search by a helicopter and fixed-wing aircraft, a ground search and a sea search by a lifesaving inflatable rescue boat with no success.
Mr Yarnton said the mystery of Mr Waddilove's demise might always remain a mystery.
About three years ago he was towed into Houhora at the top of the North Island, with a health scare.
"He needed to have a (cardiac) by-pass but refused to have it. He was one of those stubborn old people who think they know best. He was offered it and they set it all up but he refused to do it. So that is the sort of condition his personal engine was in."
Mr Yarnton said another witness said the 2.4 metre rubber tender on Mr Waddilove's yacht was also in a "grotty" state.
"Everyone who saw the Boadicea said, 'God you would never take that out on the water'," he said.
"You need to be extremely well equipped to entertain crossing the Tasman, even in a reasonable boat."
"He was 77 and should have had someone with him."
When he and his crewman earlier tried to sail to Australia, the crewman called police on the yacht's radio and said it was in a bad state and he wanted off.
"Waddilove wouldn't let him off and said 'No, we are going to Australia.'
"They went around the top and hit a storm off Spirits Bay and anchored," Mr Yarnton said.
"It got so bad on board I had to talk the crew member out of swimming ashore because he would have drowned. I used the Maritime Transport Act to order him back to Opua."
He said during the radio conversation the crew member was whispering into the microphone so Mr Waddilove, who was at the front of the boat, would not hear him calling for help.
Mr Waddilove was an eccentric who had criminal convictions.
He was "the sort of man that never paid for anything", said Mr Yarnton.
The yacht would be left where it was found because it was too badly damaged to salvage.
- NZPA