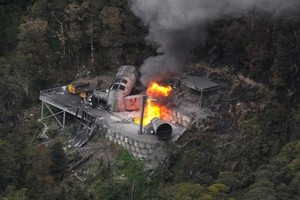 A coronial inquest into the deaths of 29 men after the Pike River Coal mine explosion will begin in Greymouth tomorrow.
A spokesman for the Chief Coroner, Judge Neil MacLean, said the inquest at Greymouth District Court would be limited to establishing the time and cause of the men's deaths, and formally confirming their identities to allow death certificates to be issued.
Wider issues concerning the cause and possible prevention of the mine tragedy would be covered later by a Royal Commission of Inquiry.
The coroner is expected to hear evidence from four expert witnesses, as well as police and Pike River Coal representatives.
"Their evidence will help him determine as far as possible the time and manner of death, and if he can do that, that will allow the issuing of death certificates," the spokesman told NZPA.
The coroner anticipated making an oral finding on the time and cause of death at the end of proceedings. He would then adjourn the inquest indefinitely so as not to prejudice the Royal Commission.
However, Judge MacLean could re-open the inquest later if necessary.
"He will ... let the Royal Commission take its course and then if he feels any need to re-open his inquest, he will. Otherwise he will just close it," the spokesman said.
The hearing is set down for tomorrow, and the following day if required.
- NZPA