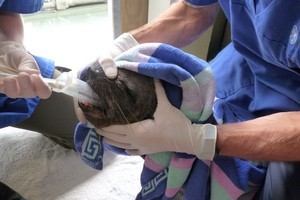 The Department of Conservation has confirmed it will lay charges over a brutal attack on a baby seal in a west Auckland stream.
Two men, a 39-year-old from Massey and a 22-year-old from Henderson, were seen bashing the one metre-long fur seal with a boat oar about 8pm last night, before leaving the bloodied mammal to float down Henderson Creek.
Auckland biodiversity programme manager Phil Brown said DOC will prosecute the men under the Marine Mammals Protection Act, which carries penalties of an up to $250,000 fine and six months jail.
It is also considering charges under the Wildlife Act and the Animal Welfare Act, he said.
"Most people value and respect seals and will be equally sickened by this senseless attack.
"Seals are a natural part of our environment and the fact they are returning is an encouraging sign for the health of our coastline and rivers."
The seal was found by a DOC ranger bleeding from its eyes, nose and muzzle and suffering from swelling on one side of its head.
It was able to swim in a pool today after being given fluids, pain relief and antibiotics at the New Zealand Centre for Conservation Medicine at Auckland Zoo.
Mr Brown said it could be released back into the wild as early as this weekend.
That wouldn't have been possible without the actions of witnesses who reported the attack to police, he said.
"Thanks to their actions, the police apprehended the two suspects and our DOC ranger was able to find the seal and take it to Auckland Zoo for medical treatment."
Last month 25 dead seals, including pups, were found clubbed to death near Kaikoura. No one has yet been caught in relation to the attack.
In November, Harley McKenzie was jailed for four months for his role in an attack on a leopard seal in 2008 in which fist-sized stones were thrown at the seal and it was dragged around a beach by its tail. Two other men were fined $5000 and $7000 respectively for their part in the attack.
In 2005, All Black Andrew Hore and friends Hamish Wilson and Matthew O'Connell were each fined $2500 after they shot at seals, killing one, on the Otago coast.
Mr Brown said people who find seals should "enjoy the experience", but respect the mammals' space.
"Keep out of their way, don't go between them and the sea. They've got a nasty bite."
The exact number of fur seals in the Auckland region is not known, Mr Brown said, however numbers are increasing around the country. There are no known breeding colonies in Auckland but DOC receive many sightings of baby seals.
- with NZPA