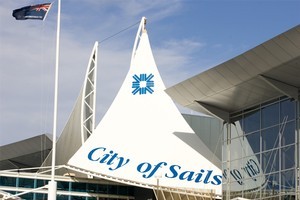 Recently my wife and I went for a drive to the Auckland Airport complex. We came in from the Puhinui Rd end. As we got nearer to the domestic terminal, we noticed a great big New Zealand flag hanging from a pole outside somebody's building. Very patriotic, but what a horrible, faded, scruffy and tired specimen it was. Can you find out who owns it? It really is past its best-by date and could use an upgrade. If anybody can get something sorted, it's you.
Brian Burton, Pukekohe.
Flattery will get you everywhere, Mr Burton. I contacted the airport people and they were horrified. They believe it belonged to one of their tenants, but when one of the property managers went out for a look, there was no sign of it. The only thing they could think of is that the tenant was equally appalled at the state of the flag, and has had it replaced. Other tenants will be reminded to keep their flags, banners, etc in good nick.
The airport authorities have a flag on the corner of Tom Pearce and George Bolt Drive that is very large, but it is in pristine condition as it is replaced three or four times a year.
Can you please tell me if there is a plan to build either an under- or overbridge to go over Orakei Rd to service the train station? Each day I dodge both school children and commuters trying to cross the busy road and it's terribly dangerous. I will have a child catching the train to school soon, and it concerns me that there is no safe place to cross to the other side of Orakei Rd. There is one section of Orakei Rd just along from the train station where there is no footpath, so you have to cross over and keep going the other way until you reach the Ngapipi Rd roundabout.
Jo Glen, Orakei.
Auckland Council is in the process of considering a plan change that would see improved pedestrian access to the station. If the plan change goes ahead, and it is currently going through a statutory and hearing process, the Ngapipi/Kepa/Orakei Rd roundabout would be replaced with traffic signals. There would also be traffic lights at the entrance to the proposed Orakei development.
When are electronic notice boards going to be installed at railway stations like they are at most bus stops? At Papakura it gets very frustrating and confusing not knowing what train is going where and what stations they are stopping at. It's also difficult to know the route, whether it is via Newmarket or Sylvia Park.
As there are three platforms at Papakura, trains can be standing at all of them, all heading north. The guards only seem to know what their train is doing and the public announcements are difficult to hear and understand. I am sure that installing an electronic board, with a clock, would be a great help. And, despite this grizzle, the new train timetable is great.
David Miller, Papakura.
Good news, Mr Miller. Electronic passenger information displays, as they are called, are scheduled to be installed at Papakura station by the middle of this year. It's part of a programme to have such displays at all stations around the train network.