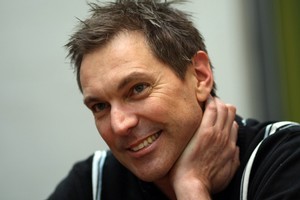 The 'celebrity' charged with disorderly behaviour after an incident in central Auckland in December can now be named after name suppression was lifted at a court hearing this morning.
Sports broadcaster Martin Devlin, 46, was arrested on the morning of December 29 after sitting on the bonnet of his and his wife's car on Quay Street.
The incident was witnessed by a police officer in the vicinity and Mr Devlin was charged.
Devlin was to have appeared in court on January 20 on a charge of disorderly behaviour.
But his lawyer had the case called a day early after Devlin was accepted into the police diversion scheme.
Because he was granted diversion, Devlin's case was excused.
It had been expected Devlin would retain name suppression until at least February 7, when arguments for and against keeping his identity a secret were to be presented to the court.
However, name suppression was lifted at a hearing at Auckland District Court this morning.
His lawyer Jenni Smith represented him in court. She stood and asked that the name suppression for her client be lifted.
Devlin issued a statement for release after the hearing, apologising and expressing his hope that interest in the case would wane now that he has been named.
"I sought name suppression in an effort to try and protect my children from being identified and embarrassed by my behaviour.
"Obviously the only effective way to prevent that was not to do it in the first place."