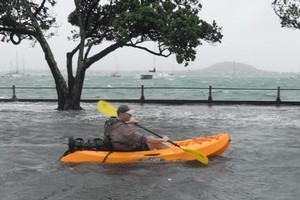 Auckland's Quay Street is closed due to flooding, motorways have lanes closed, there are slips in the Coromandel and emergency workers in the Bay of Plenty are on standby as heavy rain continues to batter the North Island.
The MetService has issued a severe weather warning for most of the North Island, including the Bay of Plenty, and the summer storm is not expected to let up until midday tomorrow.
Up to 400 millimetres of rain is expected in some areas, Civil Defence says sizeable river floods are inevitable, along with coastal surface flooding.
Police have now advised that there are areas of the Coromandel Peninsula, especially around Whitianga, where there are slippages that have brought down trees, and several flooded roads.
Auckland's North Western Motorway has one city-bound lane flooded between Patiki Road and Waterview, with a diversion in place at Te Atatu.
Northern Motorway traffic is being diverted off at Esmonde Road and back on at Onewa Road to cope with tidal debris.
Tamaki Drive along Auckland's waterfront is closed at Ngapipi Road, as the incoming tide sends water crashing over the road.
Police this morning said that part of Quay Street on the fringe of the Auckland CBD was closed, but noted that it was "only a matter of time" before the whole road was shut to traffic.
Waikato Regional Civil Defence spokesman, Greg Ryan, says Coromandel already has high tides, and northerly winds will push sea levels up further.
"On the Hauraki plains there's a number of rivers through there that are vulnerable," he told Newstalk ZB. "Also around Lake Taupo, we're expecting a significant amount of rain."
Rain had increased in intensity overnight as a low pressure system moved across the upper North Island, said Bay of Plenty Regional Council spokeswoman Bronwyn Campbell.
Graeme MacDonald, Civil Defence emergency management official for Northland District council says if the rain continues to come in the amounts forecast by MetService, widespread flooding is possible.
He said that parts of Northland have received almost 240mm in just 30 hours to 6am today - that's over two months' worth of rainfall.
"At this stage the low is expected to move south over Northland this evening to lie just west of Auckland at midnight," he said, "then track eastwards across the North Island during Monday."
Mr MacDonald says Civil Defence officials around the region are constantly monitoring and revising their position and are prepared to respond if required.

He reiterated warnings for Northlanders to stay off the roads unless absolutely necessary and to keep up to date with weather forecasts.
WeatherWatch.co.nz analyst, Philip Duncan, says the weather pattern has been well forecast. ''La Nina produces these dramatic rain events, so you can go for days and days if not weeks and weeks without rain and then the rain arrives in one big go and it falls quite heavily.''
Bay of Plenty civil defence emergency workers are on standby after heavy rain pelted the region overnight.
The council's emergency management flood room would be activated at 9am today and manned 24/7, she said.
Rivers in the region were expected to keep rising today, said Campbell.
The MetService had increased its forecast to as much as 450mm of rain, she said.
"Rain will cause rivers and stream to rise quickly, with slips and localised flooding possible, and driving conditions could be dangerous,'' she said.
She advised people to keep up to date with the latest forecasts and warnings.
High sea levels produced by strong north to northeast onshore winds accompanying the rain could restrict rivers flowing into the sea in eastern areas from Auckland to the Bay of Plenty, she said.
"All farmers should move stock to high ground, and if people don't need to travel they should stay at home. Campers in the region should pack up and head home.''
Rivers haven't yet swollen up much, but they are expected to rise steadily during the day.
The Okere Gates near Rotorua have already been opened to increase flows from Lake Rotoiti. TrustPower is increasing generation from the Matahina Dam this morning, and expects increased flows in the Rangitaiki River
The MetService has said the heavy rain was expected to be significant for most regions from Northland down to Waitomo and the central North Island high country, and across the Bay of Plenty to Gisborne and Hawkes Bay.
The heaviest rain was expected to be in Northland, Coromandel Peninsula, Bay of Plenty, the central high country and the ranges of Gisborne and Hawke's Bay.
- NZPA / NZHERALD STAFF / NEWSTALK ZB