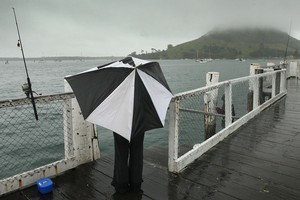 Campers across the upper North Island are tonight preparing to cope with torrential rain and strong winds as emergency workers and councils warn of flooding.
Farmers in the Bay of Plenty are also being warned to move stock to higher ground.
Some campers had been moved to higher ground and urged to secure their belongings, while others were packing up and running, said Waikato civil defence duty officer Greg Ryan.
Severe weather forecast for most of the North Island was expected to hit the Waikato later today, worsening throughout the night and tomorrow, he said.
Waikato regional council's flood management team would alert landowners, councils and other stakeholders when early warning river levels were triggered.
"Civil defence is particularly concerned about campers, trampers and boaties in Coromandel and Taupo where very heavy rain and high winds are expected," Mr Ryan said.
As much as 400mm of rain was forecast in the hills around Taupo, "so trampers and people planning on going fishing need to be aware rivers and streams will rise quickly".
Civil defence staff had warned campers at Spa Park and Reid's Farm near Taupo to prepare for the severe weather.
"People along the Coromandel coastline are at risk of flooding as an exceptionally high tide coincides with the wild weather."
Roads could be affected, Mr Ryan said.
"The advice to campers on the Coromandel is, if you need to be at work by Monday morning, leave now because there could be road closures by tomorrow."
Motorists should reduce their speeds and increase their following distances to minimise their risk of crashing.
Mr Ryan urged members of the public not to endanger their lives by entering flood waters, swollen rivers or streams.
Farmers on the Hauraki Plains were warned of rising rivers, full drains and surface flooding. In the Bay of Plenty, regional council staff warned farmers to move stock to high ground.
A lot of rain was expected to fall over a long period in that region, becoming heavy from midnight tonight and continuing through to Monday, according to a MetService severe weather warning.
BOP community relations manager Bronwyn Campbell said if even half the forecast 200mm - 400mm of rain fell over a wide area, rivers would reach first warning levels. More rain would mean sizeable river floods were inevitable, along with coastal surface flooding.
The MetService said the heavy rain was expected to be significant for most regions from Northland down to Waitomo and the central North Island high country, and across the Bay of Plenty to Gisborne and Hawkes Bay.
The heaviest rain was expected to be in Northland, Coromandel Peninsula, Bay of Plenty, the central high country and the ranges of Gisborne and Hawke's Bay.
MetService has this afternoon stepped up official rain warnings for Auckland and surrounding regions as rain arrives earlier than predicted.
It says Auckland can now expect between 150 and 200mm of rain, rather than an earlier prediction of 100 to 200mm.
WeatherWatch.co.nz has also issued a storm alert for Auckland, the first one for 2011, a warning that severe weather could pose a risk to people and property.
- NZPA, NZHERALD STAFF