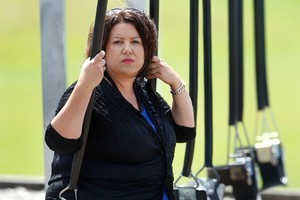 Social Development Minister Paula Bennett says she is satisfied with her response to a letter from the mother of a severely abused 9-year-old seeking help - six months before the child was found by police with horrific injuries.
The letter was first sent to Prime Minister John Key's office, which yesterday confirmed it was received last May. It was then passed on to Ms Bennett's office who wrote back to the West Auckland girl's mother.
The child was discovered by police and her parents arrested in late November.
Details of the letter emerged this week as Ms Bennett ordered an independent inquiry into whether as many as a dozen agencies involved with the girl and her family could have co-operated better to intervene earlier.
"Every available resource was provided in this case, including some of our most expensive and trusted intervention models for at-risk families, yet a child suffered appalling abuse and I want to know why," Ms Bennett said this week.
A spokeswoman for Mr Key said his office received thousands of items of correspondence each month and, given the police and other inquiries into the issue, the office had nothing further to add at this stage. A spokesman for Ms Bennett said the usual process was for such correspondence to be forwarded to the relevant minister by the Prime Minister's staff and it was unlikely he ever saw it. The spokeswoman confirmed a letter went from Ms Bennett to the mother.
"The minister is satisfied that the response was appropriate given the information she had."
Ms Bennett had "every intention" of releasing details of her response to the letter but as that might come up in the ongoing court proceedings against the girl's parents, that would not happen until the case was completed.
"We can't jeopardise the court case, that's the real concern."
The girl's parents, who have name suppression to protect her identity, face more than 35 charges between them. Another family member has been charged with sexually abusing the girl.
The girl's teacher had contacted Mr Key's office shortly after the girl was found and her parents arrested, saying she made others aware "all year" that she suspected abuse was occurring. The teacher resigned from her job because she felt her concerns were not taken seriously.
Yesterday, Ian Leckie, the president of primary teachers union the NZEI, said he hoped the independent inquiry into the case "will force the Government to come clean on its own involvement".
Ms Bennett said the inquiry was due to be completed by the end of March and an initial report into the matter by Child Youth and Family's chief social worker, which found no "single, glaring failure on the part of any of the agencies", is likely to be released once the court case ends.