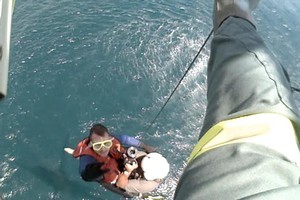 A young pilot whose helicopter plunged into the sea was saved after quick-witted rescuers scrawled a line in the beach to point others to the crash.
The 23-year-old pilot spent two hours in the water before rescuers plucked him to safety.
Last night, he was in a stable condition in Whangarei Hospital with minor injuries and hypothermia.
But it was only the quick work by rescuers that prevented a tragedy after the helicopter crashed - possibly because of an engine failure - into the sea at Bream Bay, about 30km south of Whangarei Heads, just after midday yesterday.
Five golfers playing at the Waipu Golf Club alerted emergency services after they saw the Bell Jet Ranger flying low, followed by a large bang and a splash in the water.
Whangarei couple Grant and Margaret Harper were on the beach about to start collecting shellfish when the helicopter plunged into the water about 600m offshore.
They heard a strange noise, then "one hell of a bang".
A couple ran down the beach toward them, yelling there had been a crash and to call 111.
Mr Harper called on his cellphone and told the rescue service he would draw a line in the sand pointing to the crash site.
"We were trying to describe where it was, and we were getting concerned it would get mucked up and lost, so we drew a line on the beach to point them toward it," he said.
The crash happened too far off shore for anyone to swim out to it, he said.
A sea and aerial search was started to find the helicopter and any survivors.
About two hours later, crew on an Air Force P3 Orion saw the pilot in the water.
A white smoke marker was dropped into the water near him, and he was picked up soon after by the Northland Emergency Services Trust helicopter.
Rescue helicopter pilot Dean Voelkerling said the Orion's participation made "the whole job a hell of a lot easier".
"They just popped out some smoke and he was probably 100 metres from that smoke.
"We just cruised in behind them and picked him up.
"He was very, very hard to see in the water."
Mr Voelkerling said there was no trace of the helicopter.
"There was nothing to be seen of it. He was floating in the water, just floating on his back.
"A St John paramedic who's a rescue swimmer entered the water to get him into a rescue harness. Then he was winched on board. He was conscious but very hypothermic, very cold."
Mr Voelkerling was surprised the man had escaped almost unscathed.
"I think he was very lucky in that someone on shore saw the aircraft go into the water and splash, and had very good information as to the direction to start looking," he said.
"He was pretty much right where they said he would be."
Rescuers could find no sign of the helicopter, but engine failure has been raised as a possible cause. The Civil Aviation Authority will investigate the crash.
The rescue mission involved five vessels from the Coastguard, Surf Lifesaving and police, and the Air Force and rescue helicopter searching from the air.
"It's a horrible feeling, there's someone in the water out there and you can't do much. You do what you can do, every little bit helps, really," said Mr Harper.
He and his wife sat on the beach waiting for the helicopter to be found.
"We just sat there watching the Orion going around and around ... Then they got him on a better co-ordinate and he came in."
Mr Harper said he was relieved when told the pilot had survived and his directions had helped rescuers. "It was a good feeling."
- Additional reporting: NZPA