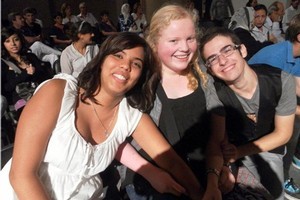 A New Zealand teenager is holed up in Tunisia waiting to see if she will have to flee as the death toll from violent unrest mounts.
AFS exchange student Louise Berwick, 17, from Timaru, has been stuck inside her host family's home on the outskirts of the capital, Tunis, for about a week amid protests and riots that led longtime autocrat President Zine al-Abidine Ben Ali to flee the country.
Tunisia's Government said more than 78 protesters and other civilians had died and there had been billions of dollars in damage and lost business.
Louise has been living in Tunisia since August, and was due to return in June, but this is now uncertain.
"AFS rang [yesterday] morning and said they were still happy that it was safe there for her, but they would like her to be prepared to leave, because if she did leave it would be quite quick," said Louise's mother, Imogen Berwick.
"So it's fairly uncertain. I think the Italian students that were there have left the country."
Louise was finally able to get out of her host family's house yesterday and buy a top-up credit for her cellphone.
"She said it's quiet during the day, but it's quite noisy at night [with] all the gunfire," Mrs Berwick said.
"And she says in their area they have snipers at the moment."
While she was getting used to the sound of gunfire, it was still causing her some anxiety. Being tall and blond, she stood out in the streets.
"She lives in a reasonably safe sort of cul-de-sac compound area with quite a few houses. So she feels quite safe in the house. It's just not being able to go to school and the tensions for everybody in the neighbourhood."
Louise passed the time in her host family's home by studying, learning Arabic and helping out around the house.
"I think when she looks back, she won't have any regrets [about being in Tunisia]. Because it's been such a wonderful experience, and she's been with such a lovely family."