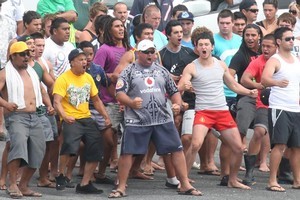 Bishop Thompson was buried wearing an All Blacks jersey - a fitting tribute to a teenager who had his heart set on one day making the team.
The 17-year-old's uncle Mana Witoko wanted his nephew, who could have made captain of the Rotorua Boys High 1st XV rugby side this year, to wear the jersey which he bought during the 2007 World Cup.
"He was looking forward to playing in the 2015 [rugby] World Cup. I gave him the All Blacks jersey. It's just sad that he never got to wear his own," Mr Witoko told The Daily Post.
More than 500 family and friends crowded on to Murumurunga Marae at Te Whaiti yesterday morning to farewell the 17-year-old.
The teenager fell from a jetski on which he was a passenger on Lake Okareka a week ago when it collided with another. He was then reportedly run over by another jetski and disappeared under water. His body was recovered on Wednesday.
Despite his young age, Bishop had already made an impact on many people of all ages and nationalities. Among those at his funeral were family, friends, Rotorua Boys' High School staff, present and former students, members of John Paul College's 1st XV rugby side as well as members of the Murupara, Te Whaiti and Kaingaroa communities.
Former Rotorua Boys' High School student Cori Marsters, who works as a carver at Te Puia, carved a pouwhenua (club) which he presented to Bishop's family at the start of the service before students performed a haka.
Mr Marsters was in the school's 1st XV rugby team with Bishop in 2009.
The service was led by Murupara-based Anglican ministers Olivia Heke and Polly Tamepo who said prayers and led songs.
As the pallbearers began to carry the casket to a waiting vehicle, 50 people, including many from his school, performed two haka. Several Rotorua Boys' High students broke down and wept as they watched the casket being carried off the marae.
As his casket was being put into the car Mina Mitai and Tepene Ohlson played saxophones.
Many then travelled a short distance up the road to say their final farewells at Waikotikoti urupa where he has been buried.
Mr Witoko said his nephew loved rugby but also enjoyed other sports. He played golf with his nephew at the Kaingaroa Golf Club.
He said Bishop wanted to become an All Black for his koro Brownie Iraia as Bishop was his favourite mokupuna.
For more articles from this region, go to Rotorua Daily Post