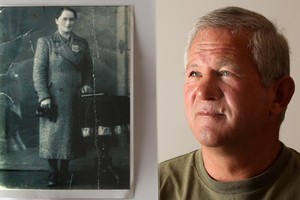 For more than 60 years, Whangamata resident Peter Kowalewicz knew nothing of his past - what his mother had gone through before ending up at a refugee camp in England where he lived for 11 years on dirt floors.
Then last month he received a phone call from Poland.
"Wujek, wujek, wujek!" cried the voice at the other end of the line. It was a woman repeating, "Uncle, uncle, uncle."
Tears welled up as missing pieces of his life came together.
"It meant more than a million dollars. I'm 65 this year, and all that time I thought there was nobody else. All of a sudden, here they are."
Mr Kowalewicz had written to the Red Cross asking if they could trace anything of his mother's life; a few months later, he was hearing from relatives he didn't know he had, learning more about his mother's extraordinary journey.
Maria Kowalewicz died in Waikato in 1995, aged 80, after eight years in New Zealand and more than 140 friends attended her funeral.
People knew her as a keen gardener and loving grandmother, but they had no idea of the turmoil of her earlier life.
Born in Poland in 1915, she lost all her immediate family and never learned to read or write.
"She was a little thing, walking along the road with a sack on her back, pushed around farms all over the place," Mr Kowalewicz said.
When Germany invaded Poland in World War II, she was sent to forced labour camps in Austria.
She was abused and gave birth to three children, who were adopted out.
One child, Rosa, began looking for family 45 years ago. When she died, her daughter Danuta took up the search. Last year, she finally found someone through the Red Cross: Mr Kowalewicz.
Mr Kowalewicz was born in Italy, where his mother had fled and been put in a refugee camp.
His mother never talked about this part of her life. He was brought up in a camp for Polish refugees in England, where no one liked to revisit the past.
He arrived at the camp when he was three months old, living in barracks with dirt floors, where refugees cooked soup in tin bathtubs.
Mr Kowalewicz's first memory is of his mother making a remedy for fingernails he had bitten.
"When you're hungry, you bite your nails."
Mrs Kowalewicz married a fellow refugee, Jan Kowalewicz, at the camp in England but he too had been traumatised and repeatedly abused her.
The refugee camp was closed without warning after 11 years and its residents scattered and disappeared to live as recluses.
In 1988, Mr Kowalewicz moved to New Zealand and brought his mother with him.
"It was the first time in her life that she could relax ... When we came to New Zealand, she looked around and said, 'I'm not going anywhere else'," he said.
She was always kind and without a bad word to say about anyone despite her traumatic past, which no one could have guessed at.
When she died, Mr Kowalewicz regretted not having asked her more about her life.
But after his phone call with his newfound niece, Danuta, he feels the puzzle is coming together.
The Red Cross deals with almost a million people from separated families every year, and Andrew McKie from the New Zealand organisation said its searches for lost relatives involved a lot of detective work, tapping into local networks around the world.
The key to Mr Kowalewicz's search was a photo of his mother from World War II that was uncovered.
She had been given a German last name, and the birthday recorded on the back of the photo was a day off.
But other details matched and it was brought to Mr Kowalewicz's attention to identify. He recognised his mother immediately.
It was not long before he was put in touch with Danuta, and they hope to visit each other soon.