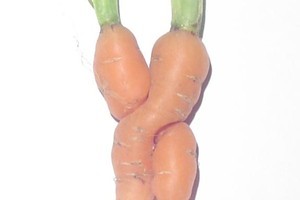 They are just two misshapen carrots.
But these carrots, interlocked in the shape of a heart, could raise hundreds of dollars towards the medical bills of a father being treated for a brain tumour.
The wife of residential property manager Clinton Beaumont put the carrots up for sale on Trade Me after she and their 20-month-old daughter Emma pulled the vegetables from their Hamilton garden.
Mum Danielle Beaumont sees a special meaning in their deformity.
Clinton, 33, had a second operation on his tumour in October, and Danielle said the family were struggling to pay the medical bills and associated costs such as updating his will.
This had put a strain on their relationship, she said, and she took the entwined carrots as a symbol that things were going to be OK.
The idea to put the carrots up for sale came out of the blue, she said.
"It was a random thought that popped into my head. We've been focusing on selling the house."
The family are moving to a rental property to lessen the financial pressure of a mortgage, so Clinton doesn't have to work fulltime.
His tumour is slow growing and doctors have told him he could live for 10 to 12 years. But he will need radiotherapy and chemotherapy in the future.
"The doctors say it's keeping a couple of bullets up your sleeve to fight it," said Danielle.
Yesterday afternoon the highest bid was $300 and the listing had 676 views. Some viewers had contacted Danielle offering a donation to the family rather than placing a bid. Danielle has posted bank account details online for this purpose. The auction closes on Thursday.