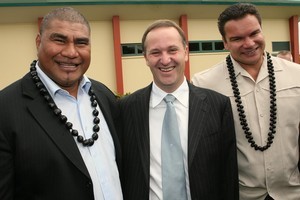 National MP Sandra Goudie will retire this year, at the same time as Prime Minister John Key's attempts to woo former All Blacks Michael Jones and Inga Tuigamala to enter Parliament could come to fruition.
Mr Jones and Mr Tuigamala are understood to be considering standing in the general election.
Mr Tuigamala said it would depend on his family and what he believed he could offer as an MP. Mr Jones did not return calls yesterday but is understood to be considering taking the step. In 2005, he declined Mr Key's first invitation to stand for National, citing his young family.
Yesterday, Ms Goudie announced she would not stand again as she wanted to spend more time with her family. "I'm not getting any younger," the 59-year-old said. "It makes room for someone younger and more dynamic who can get stuck in and take it to another level."
Ms Goudie said she hoped her successor would get an opportunity to become a minister, admitting her own chances of reaching that status were slim.
"Some are more cut out for it than others. I'm a realist."
Mr Key entered Parliament at the same time as Ms Goudie in 2002. He said she was one of Parliament's "characters" and would be missed.
A noisy interjector in the chamber, Ms Goudie is popular within her caucus but annoys Labour MPs.
Last year, they staged a walkout from the law and order select committee in protest against her chairing of the panel.
Other resignations are expected over the next two months as the parties finalise candidates for the election. Pacific Islands Affairs Minister Georgina te Heuheu is understood to be considering leaving. Yesterday, she said she was yet to make a decision.
Tamaki MP Alan Peachey told the Weekend Herald last year that he intended to stand again, but he has suffered from ill-health. Yesterday, Mr Key said that as long as Mr Peachey's health was in order, he would have his full support.
Ms Goudie's decision opens up a fourth safe National seat, after North Shore, Rodney and Botany.
North Shore MP Wayne Mapp is retiring at the election and Rodney's MP, Speaker Lockwood Smith, will stand on the list alone. Botany will have a byelection on Saturday 5 March to replace Pansy Wong, who resigned.