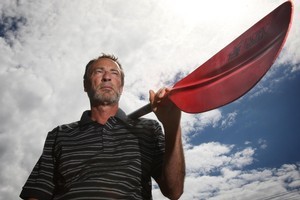 A kayaker held on for his life as a shark ripped into fish just a metre under him in a violent feeding frenzy.
Lindsay Richards said it did not bear thinking what might have happened had he fallen off the kayak, which rocked in the wake of the bronze whaler.
A keen dive fisherman, Mr Richards caught two 3kg red moki with a spear gun in the Bay of Islands on Friday.
One of the fish was flapping around wildly, so he decided he would rather tow the slimy fish on a line than keep them in his single-seat kayak as he made his way back to his yacht.
His wife, Caro, paddled out to meet him halfway.
She had just finished warning him that a shark had been sighted in the area when Mr Richards' kayak was pulled forcibly.
"I had barely processed what my wife said, and I thought, 'What the hell is going on?'," Mr Richards said.
"There was huge thrashing, I was really hanging on. I was fighting to stay in the thing. It was a few seconds of intense concentration - I realised something huge had grabbed my fish."
The kayak was pulled sideways and shaken and Mr Richards was drenched in the violent splashing.
He knew that the shark, which was longer than his kayak, was in the midst of a feeding frenzy and on "auto-pilot" to attack.
"Once they go for the fish or bait, it's all on," he said.
Before he was able to pull out his knife to cut the line, the thrashing stopped. He lifted the spear gun to find the shark had ripped through the two large fish.
Back in the safety of his yacht, Mr Richards realised just how much of a close call it had been.
"When it happened, it was a bit exciting; our hearts were racing ... At the time we thought it was a bit of a conversation piece," he said.
"But back on the yacht, we saw two bronzers the length of the canoe or bigger basically trawling the bay.
"It would've not been good to be tipped out into a feeding frenzy. It could've been serious."