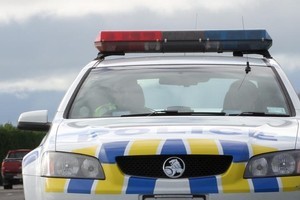 Two men were killed in a head-on crash between a motorcycle and a light truck on the outskirts of Tauranga yesterday.
Nearby resident Sibyl Grant was pulling out of her driveway and had just watched the truck go past when a bang sent debris shooting through the air.
"I thought the truck exploded. I saw bits flying everywhere. By the time I got out of my car the people weren't good. They were both dead," Mrs Grant said.
"It was a horrible, horrible mess."
The driver of the truck, 68, and the motorcycle rider, 55, died at the scene.
The accident happened about 9.30am in Oropi Rd.
Mrs Grant's 16-year-old granddaughter was getting out of bed and rushed outside to find a "pretty nasty" scene.
"The man in the truck was jammed between the door and hanging out," she said.
The motorcycle rider lay motionless on a driveway.
Witnesses said the man was conscious at first and a bystander stood over him yelling, "Hang in there, mate, hang in there."
But within five minutes the man had no pulse.
Neighbour Fred Meredith found the crash eerie because it was so quiet.
He was in his bedroom when he heard an explosion no louder than a tyre blowing out.
Other residents said they had slept through the smash.
But when Mr Meredith looked over his fence, he saw the motorbike's metal frame folded up on itself and the truck's front caved in.
Witnesses said the truck driver would have had only a thin sheet of metal to protect him.
The road remained silent for two hours as police blocked it to clear the wreckage.
"It was all quiet, like Christmas Day," Mr Meredith said.
Mrs Grant said several accidents had occurred along the road recently. Many drivers sped off the road and ploughed through fences.
Residents had discussed whether the 100km/h speed limit was too fast on a stretch of road lined with residential units and lifestyle blocks.
"But you make it 80km/h, and those who care do 80, and those who don't - they still don't care," Mrs Grant said.
She spent the day dazed, thinking how close she had been to the fatal crash.
She baked in preparation for family visiting later in the day, but she felt unsure whether she had done everything right.
"It makes you think - it definitely makes you think about how easy it is to be in the wrong place at the wrong time."
Her granddaughter, who had only recently begun driving, would never forget seeing it, she said. "I hope she takes something out of it."
The family of the truck driver gathered at his home in the suburb of Greerton. Many were on their phones spreading the bad news.
A family member said: "We're still in shock."