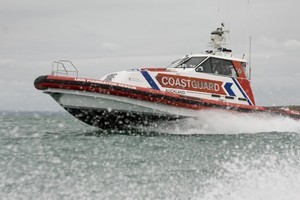 A highly distressed woman screamed into her cellphone for help as the six-metre boat she and her father were on capsized and sank in the Hauraki Gulf on Sunday.
The woman made her first distress call on the boat's very high frequency (VHF) radio before it became waterlogged and she switched to her cellphone.
However, in her panic she called 018 to get the Coastguard number instead of calling 111.
Coastguard duty officer Kat Andrews said both the woman and her father wore bright yellow life jackets which made it easier to spot them in the choppy seas.
"She was holding her cellphone out of the water to talk to me. She was screaming to be heard. We could hear her quite well but she was screaming. She was panicking.
"She did really well to keep that cellphone dry and keep it operating while I was talking to her."
She said the woman was also quite disoriented and thought they were near Waiheke Island but were further west near Motuihe Island.
The Westpac rescue helicopter was sent to join the search but the shipwrecked couple was found by a nearby boatie.
"His boat was absolutely loaded but he managed to get the lady on board. The father was sitting on the hull of the submerged vessel.
He was lifted off by the Westpac helicopter and taken back to the rescue base at Mechanics Bay while his daughter was taken by boat to the helicopter base where an ambulance took her to hospital with mild hypothermia.
The boat was recovered and taken to Bucklands Beach where a hole was discovered in the hull.
Kat Andrews said it was the second emergency where boaties had given the wrong position and emphasised how important it was to have good local knowledge of the area.
She said that said without life jackets the couple could easily have drowned.
- NZPA