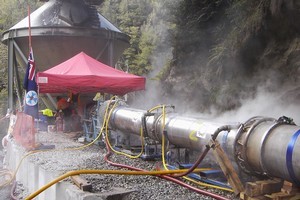 The converted jet engine pumping water vapour into the Pike River Coal mine resumed its operation today.
The GAG (Gorniczy Agregat Gasniczy) machine was shutdown for maintenance on Saturday and started again at 4am, police spokeswoman Barbara Dunn said.
Fluctuating gas levels delayed an attempt in the weekend to use expanding foam to seal cracks around a secondary shaft at the mine and speed up the efforts to make the mine safe.
Foam that expands to 35 times its original volume and hardens within about five minutes was expected to create a seal around the slimline shaft, a bore hole near the ventilation shaft.
That would allow the GAG and Floxal machine - which is pumping nitrogen into the mine - to operate more efficiently.
Operation commander Superintendent Gary Knowles earlier said sealing work could not begin until the GAG was operating and maintaining a stable environment.
Temperatures and methane gas levels inside the mine continue to fluctuate, hindering attempts to get into the West Coast mine and recover the bodies of 29 men killed in a series of explosions since November 19.
Temperatures in the mine have varied by more than 100degC and the difficult terrain is complicating the recovery.
The expanding Rocsil Foam had been used in coal mines in Europe and Australia.
- NZPA