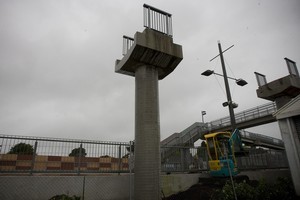 Glen Eden residents and businesspeople are rejoicing over KiwiRail's removal for $600,000 of massive railway foot-bridge ramps which have dominated the sky-line of their main street since 2007.
"It's such an improvement because they were such an eyesore - just hideous," said Glen Eden Railway Restoration Trust member Dan Greig, who runs a hair salon across West Coast Rd from the $1.8 million bridge and the two ramps.
Mr Greig said the larger of the ramps, which extended almost 100m from the southern platform to the 5.5m-high bridge, had dwarfed everything else in the town centre including a 130-year-old station building painstakingly restored by the trust.
KiwiRail has decided to keep the bridge intact, for continued access to the Glen Eden shops for residents of Brandon Rd on the northern side of the railway tracks, but will replace the ramps with stairs. It removed the ramps during its two-week Christmas closure of the western line for construction and maintenance purposes, but will not install the stairs until Auckland Anniversary Weekend at the end of the month.
The state-owned organisation is paying for the facelift with spare change from its $600 million basic upgrade of Auckland's rail network.
But it expects to recover some of the cost by using the ramps at some other station - probably Otahuhu - with an industrial backdrop better suited to their size.
Access to Glen Eden's station for wheelchair users will be from an existing level-crossing in Glenview Rd.
Although the length of the ramps was dictated by a building code requirement for a grade no steeper than 1 in 12 for wheelchairs and cyclists, Mr Greig said he had never seen anyone with disabilities use them.
Auckland Council deputy mayor Penny Hulse, whose former Waitakere City lobbied KiwiRail to remove the ramps, said she had a fit and strong friend who had been in a wheelchair all her life but found them "almost impossible to use."
"It wasn't just the look of it, it was also such a hard, long ramp to use," Ms Hulse said.
"She works in Glen Eden and catches the train from Swanson and the at-grade [level] crossing for her is absolutely perfect."
A outcry over the Glen Eden ramps after residents realised how domineering they were helped Ms Hulse to persuade KiwiRail to retreat from plans to build similarly large structures at other stations on the western line such as Swanson, which now has a pedestrian bridge served by stairs and elevators instead.
KiwiRail project director Peter King acknowledged that the larger ramp was a "monster" which had been built during a transfer of responsibilities for Auckland's rail infrastructure.
He said that when his organisation realised time was not easing community discontent, it decided to consider removing the ramps at the end of its now-completed duplication of the western line.
Mr King said the visual impact of the ramps was accentuated by the fact the Glen Eden shops were on a lower level than the railway line and he did not think their designers realised how dramatic they would look once built from plans on paper.
"The problem with these ramps was that they were so big and imposing - they were really an industrial sort of ramp, just in the wrong area." he said.
"But we are pleased to make things right and think we'll end up with something pretty acceptable.'