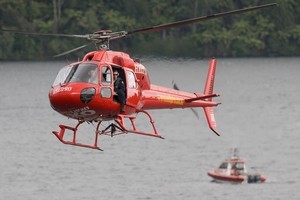 The family of a promising young rugby player run down by a jetski after falling into the water spent yesterday on board a harbourmaster's boat as police divers searched for their boy.
New Zealand Under-18s halfback Bishop Thompson fell from a jetski on Lake Okareka near Rotorua on Saturday afternoon.
It is understood the 17-year-old was hit by another jetski following him.
He was not wearing a life jacket, and disappeared under the water.
Searches on Saturday were unsuccessful and yesterday, 10 volunteers in kayaks searched the 3.5sq km edge of the lake before the police dive team arrived to carry out an underwater grid search.
The divers suspended their search last night, and police presume Bishop is dead.
Detective Sergeant John Wilson said Bishop's family spent yesterday on the harbourmaster's boat watching the search.
He said an investigation was under way into what happened on the water, and as part of that police were door-knocking lakefront houses looking for witnesses.
Bishop had been boarding at Rotorua Boys' High School for the past four years and was about to start Year 13.
The Herald has learned the teenager riding the jetski that hit Bishop also goes to the school.
Principal Chris Grinter yesterday paid tribute to Bishop, "a delightful young man".
"He had a beautiful smile and he was always happy, always positive," he said.
"It's unthinkable to imagine that in two or three weeks our school will be starting without him. He was certainly one of our young men that we would have looked to for a significant leadership role this year. It will be a very sombre start to our school year."
Bishop was a keen musician and was the lead singer in a band.
"He was a great vocalist and guitarist. He was a wonderful musician," Mr Grinter said.
"He's been a member of our 1st XV for two years and I guess this year we were optimistic that he would be a contender for a place in the New Zealand secondary schools team.
"I know the Bay of Plenty Rugby Union had him earmarked as part of their planning for the future.
"Quite a few people felt he had a very bright future in rugby. He was a wonderfully talented athlete."
New Zealand Under-18s manager Luana Axtens said Bishop was an "outstanding" sportsman.
"He had natural talent and wonderful leadership skills," she said.
"We are really saddened by it. He was such a huge part of our Under-18 team. He was a top guy."
Mrs Axtens said she had known Bishop since he was 13 and he had a huge presence.
"The players have huge respect for him. He was just a fantastic guy. He had the biggest smile - always. He would do anything for you."
Mrs Axtens said Bishop had a great sense of humour and would be "hugely" missed by the Bay of Plenty Rugby Union.
She had no doubt he would have continued being selected for representative teams and said it was "quite possible" he could have become an All Black.
"He was a high achiever, such a wonderful, lovely kid."