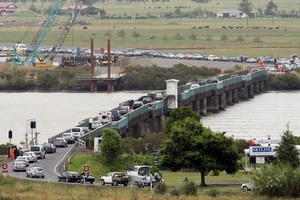 We enjoy driving up the Thames coast to Coromandel township, partly because slower traffic displays such courtesy. They pull over wherever possible and let following traffic past.
If it wasn't for that there would be considerable congestion, frustration and delay, with a queue developing behind each of the slowest vehicles.
With only four or five good passing stretches in the hour's drive, and a similar number of slow vehicle bays in each direction, you could imagine the problem.
However, not all drivers know of this local tradition and occasionally a queue does develop, with the risk that an impatient driver will do something dangerous.
For those who know the road, we were the fifth in line following a slower vehicle leaving Wilsons Bay on Christmas Eve.
The front driver didn't pull over, even at the top of the hill. The other four managed to get past the slow vehicle in the hills and we passed it on the Manaia straight, after a time span of approximately 15 minutes of slow travelling.
The construction of passing lanes are never going to be an option on winding roads near the sea such as this. And one problem with slow-vehicle bays is that many offending (slower) drivers don't see themselves as being slow enough to use them.
I'm suggesting we formalise and publicise the concept of common courtesy (CC) by creating and signposting "CC bays" on roads like this section of SH25, where drivers who choose to drive more slowly are expected to pull over to let others past.
A slower vehicle can be easily defined as "any vehicle with others following closely behind".
Adopting the concept as policy would cover the formality aspect. Publicity could be through articles in newspapers and the like, plus a signpost at each end of the "CC" section of highway, to explain the rule. Each "CC bay" would require two signs - "CC bay (say) 100m ahead" and "CC bay". Reinforcement would be as simple as a friendly toot and wave when drivers pass an obliging slower driver.
Enforcement could be through drivers (or their passengers) being invited to dob in the number plates of vehicles holding up the traffic and not taking advantage of the CC bays, together with the date, time and location.
An agency could then write a letter to the owner of that vehicle, explaining the "offence" and expectations of other traffic.
When I suggested this idea to the NZ Transport Agency a couple of years ago, their response was that they thought having another level of passing facility (CC bays) would confuse drivers. I would have imagined common courtesy would have been the easiest thing to teach, when most drivers show it anyway.
It doesn't require much room for a driver to pull over, even when towing a trailer, provided they are forewarned that there is such an area up ahead and are then able to indicate their intent to following traffic.
I have counted more than 50 potential "CC bays" on this section of SH 25, in each direction, or an average of almost one per km. If even a proportion of these were signposted and used it could help traffic flow.
Can you imagine the cost of adopting this as policy, in relation to the potential benefits? If there is congestion and delay on Coromandel coast roads these will only get worse as traffic volumes intensify and particularly after the new Kopu Bridge is opened.
However, the main benefit of this idea would be in road safety. More traffic will be travelling at a speed that individual drivers are comfortable with, relieving frustration and lowering the risk of rash decisions.
Imagine what traffic flows will be like on some of these roads in 20 years' time if something like this is not done?
Why not introduce the concept initially on this section of SH 25, as a trial?