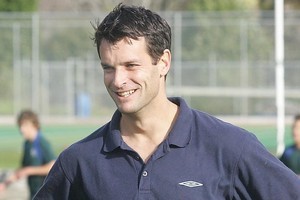 A teacher accused of inappropriate behaviour has proclaimed his innocence - and spoken of a campaign of terror against him and his wife.
Former Bethlehem College history teacher Chris High told yesterday how he and his wife had been forced to move from their Tauranga home after being targeted. He had also resigned.
The campaign against the family had begun after allegations of inappropriate contact with a student, he said.
High would not discuss the details of the allegations, which are the subject of an inquiry by the Teachers' Council. He said he did not want to jeopardise the investigation.
"Personally it's been hard," he said. "It's hard to be looked at as a person you're not. It's a shame to leave under these circumstances."
Since the accusations, he said, moving house had not been enough to stop abuse. Graffiti had been sprayed on their driveway and a dead possum left at their front door.
Bethlehem College is a co-educational Christian school situated in a leafy affluent area of the city, with a roll of 1500.
The school's website says staff are committed to providing a "Biblical-based Christ-centred education for the preparation of students".
High was one of two teachers to resign from the school this summer break after allegations of contact with students.
High, 36, and Colin Mackenzie, in his 30s, left the college at the end of term four last year after students came forward saying the men had crossed professional boundaries.
Board of trustees chairman Greg Hollister-Jones said one was accused of intimate communication with a student and the other of being in an "inappropriate relationship" with a student.
An internal investigation and formal disciplinary procedure had been started by the school, he said.
Hollister-Jones said both men resigned before this was completed.
The school did not intend to tell parents about the incidents because "it's a private matter between the school, the teachers and the students concerned", he said.
High had been a history teacher at the school for five years and Mackenzie taught physical education. There had been no previous professional issues with either teacher, he said.
A spokeswoman from the Teachers Council confirmed that two teachers from the college were under investigation by the complaints committee.
Principal Phillip Nash refused to comment on the allegations. "I want to protect their privacy - they've got families," he said.
Mackenzie previously taught physical education at Otumoetai College, before joining Bethlehem College and principal Dave Randell said he had found him to be the "epitome of a man" during his time there, with no professional conduct issues.
Mackenzie did not return phone calls yesterday.