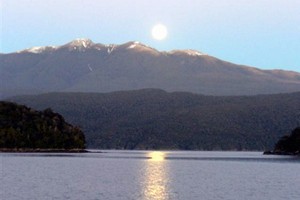 A 59-year-old Christchurch man arrested for allegedly trying to set fire to a campervan with two people in it will be interviewed later today about what police say may be an "extreme, over-the-top reaction" to freedom camping.
Police were called to a Tasman District Council reserve at Tamatea Point in Pakawau, between Collingwood and Farewell Spit, about 5.50am after a couple said someone had shot at, smashed and attempted to set fire to their campervan, Nelson Bays area commander Inspector Brian McGurk said.
The couple, from either Auckland or Hamilton, had earlier been verbally abused about freedom camping in the area.
Four Nelson-based members of the armed offenders squad, along with a police dog, later arrested a man at a nearby house.
Pakawau Old School House cafe owner Robbie Duncan told NZPA he knew the arrested man.
"He comes in here (the cafe) every now and again, (he) has a holiday home here," he said.
"I like him really well ... a very well-natured person."
Mr Duncan said the man's holiday home was on the reserve where the attack happened.
"They take great pride in that reserve and there's a lot of people that go and park up in there," he said.
"I don't know myself but maybe that's what might have triggered something."
Mr McGurk said the van's occupants were "petrified" but not physically injured.
"Police are reasonably confident that no firearms was used and a slasher machete or similar object was used to smash the front windscreen of the campervan," he said.
"It appears that methylated spirits was tipped into the campervan and attempt made to set fire."
Police were still at the scene this morning, interviewing witnesses and carrying out a scene examination.
Mr McGurk said the arrested man, who did not appear to have any connection with the couple, was being taken to Nelson to be interviewed.
He was charged with setting fire to the campervan but more charges were likely.
The man was expected to appear in Nelson District Court today or tomorrow.
- NZPA