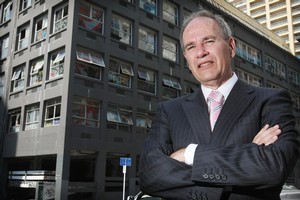 Auckland Mayor Len Brown has announced a graffiti wipe-out campaign to help rid the Super City of its costly tagging problem.
The plan will focus on enforcement, education and the eradication of graffiti regionwide, with schemes that will include getting the public - including school children - involved.
One initiative, the Adopt-a-spot scheme, encourages people to take up a particular tagging hotspot - a fence, bus shelter or similar - and paint over it every time a tag appears.
The paint will be provided by trusts and private contractors in the community, contracted by the council.
Another initiative will involve school visits, educating primary and high-school students about the damage and costs tagging imposes on businesses and the community.
It costs between $5 million and $6 million to clean up graffiti vandalism around Auckland each year - a bill that does not sit well with the mayor.
"The economies of scale in dealing with the issue across Auckland mean that value for money can be assured," Mr Brown said yesterday.
"We are defining what our communities will put up with as acceptable behaviour around Auckland."
The council's manager of community development and partnerships south, Leora Hirsh, yesterday said the council paid private contractors to remove graffiti throughout Auckland.
Those contracts would be analysed in the weeks to come to figure out which areas were the worst hit and therefore needed a greater focus.
"We're going to be tracking what tags are appearing where and working collaboratively with police.
"When it comes to eradication, most of our contractors work on a 24-hour to 48-hour removal of a tag [because] the longer we leave it, the more likely more tagging will appear."
Ms Hirsh said retailers would be visited to make sure all spray cans were behind the counter and in a locked cabinet - something that became law a few years ago when Manukau City Council pushed for it.
An 0800 dob-a-tagger hotline instigated by Manukau City while Mr Brown was mayor, and use of private investigators to hunt down taggers, resulted in an estimated 70 per cent drop in tagging, he said last February.
Throughout his Super City mayoral campaign last year he advocated the need to rid Auckland of graffiti.
Yesterday, he praised those in the community who had already taken it upon themselves to stamp out the problem by painting over tagging quickly.
"It is now time to unite and take the message across Auckland that we will not put up with graffiti vandalism."
News of the campaign comes as work begins on the 99-year-old Yates Building on Albert St, which has been a graffiti eyesore for years.