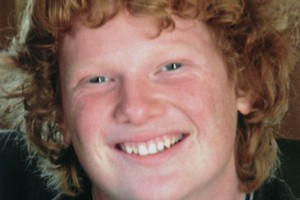 He was playing a game that will be familiar to many from childhood.
But when Sam Goodenough's turn came to try to hold his breath the longest underwater, the game turned to tragedy.
The popular 16-year-old blacked out and failed to surface. At first, others in the pool thought he was just joking. But the longer he stayed under, the more serious it became.
"It was just one of those tragic incidents," Sam's father, Geoff Goodenough, told the Herald.
"It was just a silly game they were playing in the pool of holding their breath.
"Of course the other kids in the pool thought, 'Well, he can hold his breath for a long time'.
"It's something we have all done as kids. When I was a kid I used to do the same - pick the rock up, hold your breath and try to get to the other side of the river," Mr Goodenough said.
"It was just a freaky accident. It really rocks your world, I tell you."
Paramedics were called to try to revive Sam. He lay in hospital on life support for five days before he died on Tuesday.
Mr Goodenough and his wife Sheryl were out of town on holiday when it happened, and returned to spend those final days in hospital with their only son - talking to him, singing to him, praying for him and saying goodbye.
Those who were playing the game with Sam at a family group home in Nelson had been offered counselling.
"It's easy to start doing the blame game, but we weren't there, and we can only go by what was said," Mr Goodenough said.
"They were being supervised. It's just that you take your eyes off them for a couple of minutes. He's 6ft 6in [198cm] and he's in a four-foot deep pool, so one would assume you would be all right."
Tall and lean, with size 14-15 shoes, Sam had shown himself to be a promising basketballer, and wanted to pursue the sport to serious levels.
"He made friends easily.
"He had a smile that would just light up a room. There was a wee bit of cheekiness with him, but he was a typical teenage lad."
Police have referred Sam's death to the coroner as a suspected drowning.
Water Safety New Zealand says the 10 recorded drownings over the official Christmas-New Year holiday period is a tragic "yet sadly predictable figure".
General manager Matt Claridge said the majority of lives were lost because of a failure to follow basic safety precautions.
A large turnout is expected at Sam's funeral tomorrow.