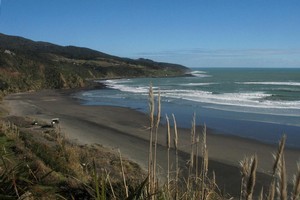 Originally a Maori settlement and later a farming community, Raglan was transformed by the arrival of modern surfing in the 1960s.
While million-dollar homes are gradually replacing the rustic baches owned by early, sun-bleached boardriders, the community retains shreds of its relaxed, surfer charm.
Manu Bay's left-handed surf break, which wraps around the headland and peels for 300m, has marked Raglan's beaches as an international destination.
The value of the point break led to its being protected by law in December, along with neighbouring surf breaks Whale Bay and Indicators.
But the same wave energy that creates that break makes Raglan beaches a black spot for swimming and boating.
The coastline is exposed to the Tasman Sea, where walls of surf combine with a seafloor full of bars and holes to produce an unforgiving, swirling current.
Ngarunui Beach in particular is known for having a dynamic seafloor.
The combination of pummelling surf and loose sediment means the shape of the seabed can change quickly.
These conditions make Raglan a perfect location for world-first research into the formation of rips.
The National Institute of Water and Atmospheric Research (Niwa) is working with Surf Lifesaving NZ to understand how rip currents develop, and attempt to predict their occurrence.
Niwa oceanographer Giovanni Coco says the problem of rips has been neglected on New Zealand beaches.
"It's not like a tsunami that, when it hits, it causes a lot of deaths all in one time. With rips, it is a slow thing, which doesn't quite make the headlines. One person dies, another one three months later. It's a silent problem.
"But in all the toll is quite bad. Without Surf Lifesaving [New Zealand] patrolling the beach it would be carnage."
The large swells at Raglan retreat from the beach in three ways - in established channels around the headland, by washing out with the tide near the harbour mouth, and in beach rips, or "flash rips" which catch out swimmers.
"They are just there for 10 to 30 minutes then they disappear. And they are dangerous because they are difficult to spot," says Dr Coco.
As a rule, the larger the waves - Ngarunui's surf breaks can reach 3m high - the stronger the rip.
Dr Coco uses cameras to identify the rips, marked by a blue, calm stretch of water between white breakers.
At Raglan and another troublesome beach, Coromandel's Tairua, Niwa can relay this data to lifeguards on patrol.
A wealth of data from Tairua - 10 years' worth of wave characteristics and rip currents - means scientists can forecast rips as far as five days ahead there.
Dr Coco and his colleague Malcolm Green found that up to 75 per cent of the rips could be predicted.
Dr Coco said these predictions could be in place in Raglan in three years, once enough data was gathered to create an algorithm.
"It's a difficult business predicting rips, and to my knowledge we are the first in the world to do so in this way.
"At Raglan, it changes more than we expected. The sands shift from one side of the main beach to the other quite rapidly.
"This not only generates erosion problems, but it also means the rip channels tend to be very mobile."
Dr Coco is investigating the biggest gap in global knowledge on rips - how currents react with the seabed.
He uses instruments to measure the shape of waves as they run up the beach, and to find out how the sand moves, and where the sand goes.
As part of the study, he threw advanced lifeguard Nathan Hight into Ngarunui's surf with a GPS-monitoring device, and measured how swiftly he was pulled offshore.
Mr Hight said: "I basically floated for a day in a number of rips ... and that allowed Giovanni to measure the wave energy, what velocity the water moves."
The fastest rips were measured at 4m a second - a useful pull for lifeguards wanting to swim beyond breakers, but lethal to the average swimmer, whose instinct is to swim against the current.
By combining his observations with video data, Dr Coco hopes to be able to accurately simulate the formation of rips, which would be a scientific watershed in his field.
Mr Hight, who is general manager of programmes and services at Surf Lifesaving NZ, says if the study sheds light on how rips move and how often they occur, it could preserve Raglan's reputation as a world-class surf spot - not as a black spot.