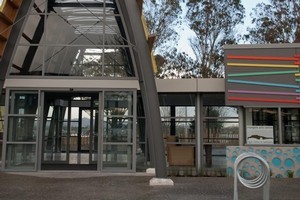 Artstation
For more than 20 years Artstation toi tu has been a home for visual arts with exhibitions, art projects and a comprehensive programme of classes and workshops for all ages. New exhibitions every three weeks, open access studios, darkroom and cast glass facilities for experienced artists. Ponsonby Rd, ph (09) 376-3221, Monday-Friday 9am-5pm, Saturday 9am-4pm.
Mangere Arts Centre - Nga Tohu o Uenuku
This new arts centre promises frequently changing exhibitions and performances as well as studios for visual arts, crafts, heritage arts and multimedia. It boasts a particular focus on Maori and Pacific arts and performing arts, with a shop featuring local artists and craft makers. Corner Orly Ave and Bader Drive, Mangere Town Centre, ph (09) 262-5789, Monday-Friday 9am-5pm, weekends 10am-4pm.
The Centre
Public exhibitions in the New Zealand Steel Gallery showcase an annual competition, festivals and special events. The community gallery attached to the shop features local works, while a variety of cultural, creative and community groups make their home at Franklin. 12 Massey Ave, Pukekohe, ph (09) 238-8899, Monday-Friday 9.30am-4.30pm, Saturday 9.30am-2.30pm.
Mairangi Arts Centre
A community organisation with a wide range of weekly classes and workshops for adults and children, and at least 15 exhibitions a year. The Shore is well served with The Depot Artspace (28 Clarence St, Devonport, phone (09) 445-9398 www.depotartspace.co.nz) which focuses on employment and youth initiatives in visual and performance arts, Northart (Ernie Mays St, Northcote Town Centre, phone (09) 480-9633, www.northart.co.nz) focusing on visual arts by local and national artists plus children's classes in two recently remodelled galleries. 20 Hastings Rd, Mairangi Bay, ph (09) 478-2237, Monday-Saturday 9.30am-4pm.
Corban Estate Arts Centre
Exhibitions in a wide range of media by well-known local artists, as well as talented emerging artists. Some items for sale, and others are purely educational, with a focus on artists and stories connected to West Auckland. Located at the Corban Winery Estate in Henderson, the space includes artists' studios, cultural events and art classes. 426 Great North Rd, Henderson, ph (09) 838-4455, daily 10am-4.30pm.