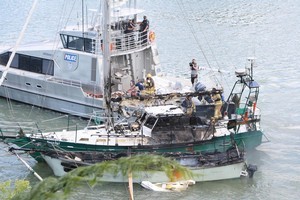 Police are investigating how a yacht caught fire, burned through a line and caused damage to two other yachts nearby.
The total cost of yesterday's fire on the Tamaki River is likely to be more than $150,000.
Police were last night knocking on doors in Bridge St in Panmure trying to find out how the 9.7m Wairoa caught fire.
The Herald understands police were speaking to the owner of the Wairoa last night and were trying to track down the owners of the other two damaged boats.
Panmure Yacht and Boating Club secretary John Bennett said the Wairoa burned through one of its lines, causing it to swing alongside the 13m cutter cruiser Kerangi.
Mr Bennett said the Kerangi also caught fire, causing extensive damage to its centre cockpit. He estimated the damage to the boat at $150,000.
"It is all but a total loss," Mr Bennett said.
A third boat, the 11.5m Lewanne, had several thousand dollars of damage done to its sails and paintwork.
"One member got in there and towed the third boat away," Mr Bennett said.
The Wairoa, which has since sunk, would have been worth about $30,000.
Auckland Harbour Master duty officer Marc Davis said his office was working to make contact with all the owners and to find out if the Wairoa was insured.
He said if the Wairoa was not insured then the Auckland Council would underwrite the recovery.
Parnell station officer Brendon Wood said one fire engine fought flames from land while firefighters hosed down the yachts from a police launch.
He said the cause of the fire might never be known, now that the Wairoa had sunk.
"We're unlikely to ever know as our evidence has washed away."