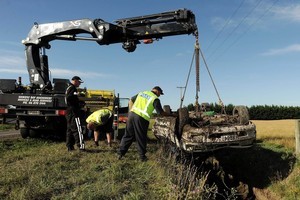 Drinking, sleeping little then driving can kill - that's the warning from police after a crash that has left two men fighting for their lives.
The men were in a Toyota saloon which crossed the centre line at Horotiu, north of Hamilton, sliding sideways into a van carrying five handicapped teens and two able-bodied people on a New Year's Day outing.
It was part of a horror start to the 2011 road toll, with two people killed in separate accidents.
And it put the Christmas holiday road toll at eight - three of them teenagers.
Sebastian Hirling, 16, was killed on Wednesday riding on the back of a ute driven by another 15-year-old.
Tanisha Morris, 13, died in a collison in Hawke's Bay, as did Mary-Lee Huata, 17, whose tangi began in Wairoa yesterday.
The crash at Horotiu prompted Waikato Senior Sergeant Jeff Penno to warn holidaymakers to ensure they were fit to drive before setting out.
He said speed, alcohol and driver fatigue were possible causes in the Horotiu accident.
The car driver, aged 20, tested at twice the legal blood alcohol level. He and his passenger are in Waikato Hospital's intensive care unit.
Penno said the men had camping gear in the car: " "So if you've been away for the holiday weekend and hitting it hard and, say, camping at the beach, you may have had very little sleep and given yourself insufficient time for your body to rest and process what you've been drinking.
"You will be putting yourself and other road users at risk."
In Whangamata, police were dealing with a teenager who drove drunk after celebrating the New Year. The 15-year-old girl was brought into the police station yesterday after driving 168km from Auckland's North Shore, arriving about 8am.
Senior Sergeant Pete van de Wetering said the girl was on a graduated driving licence and with only six months' experience behind the wheel.
"She has driven her Ford Fiesta around the property and caused some damage, much to the concern of the property owners."
Van de Wetering said the girl was found to be well over the adult legal alcohol limit.
A 35-year-old Auckland man killed in a car crash near Hastings about 1.45am yesterday was the first road fatality of 2011. Two men were in the Holden Commodore when it left the road and landed on its roof in a 3m deep ditch.
The driver was killed, although the disoriented but uninjured 42-year-old passenger man aged to escape and flag down a passing police car for help, Senior Sergeant Luke Shadbolt said. Both men were from Pt England, in Auckland, and had driven to Hastings overnight.
A second person died yesterday evening after going through the windscreen of a vehicle which crashed in the Bay of Plenty. His death takes the road toll for the holiday period, which began on Christmas Eve, to eight.