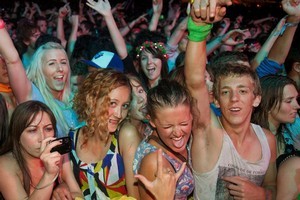 Revellers at the Rhythm and Vines music festival suffering "sprains, strains and sunburn" filled emergency rooms in Gisborne yesterday.
To help cope with the expected rush of extra patients, the main emergency centres in the East Coast town rostered on additional staff.
Gisborne Hospital's emergency room filled up with young people who'd had too much sun or had sprained an ankle.
Duty manager Lindsay Eartlett said the department would normally be treating about 40 to 50 people a day, but that number doubled to more than 90 a day during the New Year period. "We plan for the increase in patient numbers every year and put on additional staff so we're not overrun," she said. "It can get quite busy as the patient numbers double around this time of year."
Most of the injuries could be fixed with a bandage or some advice and they rarely saw anything too serious as a result of the festival.
"Most of it is sprains, strains and sunburn, quite minor injuries ...
"Everyone comes down here in good spirits, we think of it as Glastonbury with lots of fun."
Waiting times in the emergency room were up to four hours, which was an increase but still within an acceptable limit, she said.
The number of people seeking treatment at the nearby Mangapapa Medical Centre had also more than doubled. "We've been seeing about 50 people a day when we normally treat about 20 a day during the rest of the year," said Dr Ken McFarlane.
Visitors went to the centre with "all sorts" of complaints like chest infections and allergies, he said.