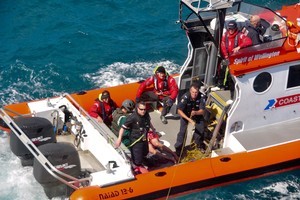 Marine authorities are urging boaties to carry proper equipment after two men were plucked out of the water off Wellington's rough southern coast yesterday.
The two boaties and one other man were on a diving expedition when their 4m runabout, which was bought just three weeks ago, sank near Sinclair Head.
Ten hours after it sank, Max Ma struggled ashore and restarted the police search.
After searching for hours, the Rescue Co-ordination Centre, Westpac chopper, coastguard and other helicopters had suspended their search at 3.30am.
Mr Ma made it to shore about 3.45am and knocked on the door of a house at Owhiro Bay. He said he thought one of his companions had died.
"After one hour swimming against the current and then finding myself really far away from the beach, I was really worried about that" Mr Ma told TV3 from his hospital bed yesterday.
"I was thinking I wouldn't see my mother again, you know.
"The boat was sinking pretty quickly and Roy just bought it three weeks ago, so he must be pretty upset about his new boat."
A chopper spotted the flipper of one of the men at about 10am, and he was taken on board the new police launch Lady Elizabeth.
The third man was found in a "serious condition" by the coastguard boat Spirit of Wellington and was flown to Wellington Hospital by the Westpac rescue chopper.
Search and Rescue officer John Dickson said the rescue could have happened much sooner if the men had communications equipment.
"If any of the three had been able to radio or phone for help, we would have known straight away where to look for them," Mr Dickson said.
"These men would have been at considerably less risk of losing their lives if they had been carrying the appropriate communications equipment."
He said boaties should carry at least two types of communications equipment as well as a distress beacon.
"Once you're in the water with no means of calling for help, your chances of being rescued are greatly reduced," Mr Dickson warned.
He said the three men probably survived their overnight ordeal because they were wearing wetsuits and lifejackets - but at least one was wearing only the lower half of a wetsuit and a kapok lifejacket.
Sergeant Dave Houston from the police Maritime Unit said an observant boatie also played a big part in the rescue of the missing pair.
"We received a call from a boatie who had returned to shore ... and had found a boat trailer and car parked in the carpark," Mr Houston said.
"He was concerned because the weather had got up and the boat hadn't returned."
Inquiries made with the owner of the vehicle confirmed that the men were overdue.
Rescuers said the men were "very lucky" to have been found alive.