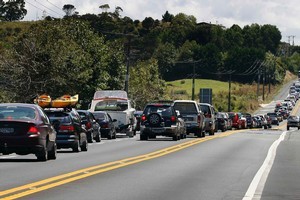 People heading away for New Year's Eve celebrations today should prepare for long waits in their cars as traffic starts to build up on the way to popular holiday hotspots.
Thames police Sergeant Jim Corbett said the line for the one-way Kopu Bridge is not too long at the moment but will likely get worse as the day progresses.
"The Kopu Bridge is at the moment not backed up at all, it's running relatively smoothly. They've got it under control, but it is bound to get busier later in the day."
The AA reports the queue is currently back as far as Campbell Rd, and the New Zealand Transport Agency recommends holidaymakers heading to the Coromandel Peninsula drive via Paeroa and up SH26 to get to Kopu.
Traffic is also building up in Tairua, where there are three one-way-bridges, and north of the town, where the AA says it is "very slow".
The AA reports SH2 at the Rimutaka Hill is going slow both ways.
Traffic is also heavy on SH1 at Warkworth, north of Auckland. Motorists are advised to take SH16.
- NZ HERALD STAFF