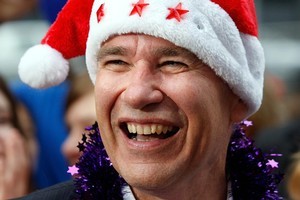 New Zealanders from all walks of life have been recognised in the Old Year Honours List for 2010.
The coveted Julian Assange Cup for most destructive leak during the past 12 months is awarded to former North Shore Mayor Andrew Williams. The WikiLeaks judges noted that Williams' selfless leaking in the interests of horticulture had washed away his chances of being chosen as mayor of the new Auckland Super City.
The man who did win that position, Len Brown, takes this year's Messiah Trophy for scourging himself, announcing his own crucifixion, rising from the dead, announcing 100 miracles in 100 days and then promising free swimming pools, free library books, a railway line to every shopping centre, affordable housing for the homeless, a chicken in every pot, a shady park in every street, council jobs for everyone in South Auckland and all to be paid for with a rate rise of only 4.9 per cent.
And while we're on religious awards, the Pontius Pilate Shield goes this year to Television New Zealand for training Paul Henry to like fresh meat, poking him with a stick to make him angry, keeping him on short rations, setting him loose without a muzzle and then washing its hands of responsibility when he actually bit someone.
As a consolation prize, Paul Henry wins a signed copy of Sarah Palin's Going Rogue. Pippa Wetzel gets the New Zealand Country Music Association's Stand By Your Man golden microphone.
The Ponsonby Pies Plate (with tomato sauce) for classic Kiwiness goes to Governor-General Sir Anand Satyanand.
Winner of the Ministry of Women's Affairs lingerie voucher for the promotion of women's affairs is Pam Corkery.
The Victoria Cross for worst disguise in a war zone is awarded to Willie Apiata.
The Dan Carter Prize for imaginative use of underwear has been won by German tourist Hans Kubus who hid 44 geckos and skinks in his underpants.
The Gandalf Cup for services to industrial relations, energy, conservation, tobacco, climate change, economics, the New Zealand film industry, motherhood, tourism, alcohol, mining, sexual liberation, nuclear physics and international relations, not to mention helping Warner Brothers make an outrageous fortune from the New Zealand taxpayer, is jointly awarded to Robyn Malcolm and Cheryl West.
The Oscar for best adult in a children's role goes to Peter Jackson for throwing his Hobbit toys out of his Wellington cot.
The Reel Late With Kate critic's award goes to film buff Shane Jones for his dedicated study of porn movies. Not only did Jones watch those movies in a hotel room only to analyse the film-making technique, but he did it so assiduously that he actually failed to remember their content.
The Bill Manhire best short fiction award goes to Stephen Wilce, whose application for the directorship of the Defence Technology Agency appears to have suggested that he was a member of the Jamaican bobsled team, won the Military Medal fighting in the Boer War, played halfback for the British Lions, had a doctorate in nuclear physics from Oxford and spied for Britain's MI6 in Lithuania.
The Bilingual Broadcasters lost-in-translation dictionary is awarded to Simon Dallow (for not speaking "leso").
Inevitably many of the winners come from national politics.
Former Irish premier Bertie Ahern has been declared the lifetime holder of the title Teflon Taioseach, because muck never seemed to stick to him. So this year's winner, John Key, has been awarded the new Pollyanna Prime Minister Medal for his ability to walk through recession and earthquake, scandal and mine disaster, famine and pestilence, and emerge unscathed.
It's not just that if he fell down a sewer he'd emerge with a smoked salmon in his mouth - though he would - but also that he'd exit smiling and waving, announce an inquiry, mumble something about the time he fell into a septic tank as a boy, and win compliments on his deodorant.
The Little Engine That Couldn't Shield goes to Labour leader Phil Goff. It's almost tragic to watch Goff panting busily away, trying to climb the mountain of public opinion, puffing, "I think I can, I think I can, Iiii thhhhhink Iiiiii caaaaannnnnnnnn, Iiiiiiiiiiii ... oops, bugger... nac I kniht I, nac I kniht I ...
Goff also wins the Salvation Army Salad Bowl (GST not included) for his efforts on behalf of the vegetarian poor.
Members of the Act Party won several awards for their efforts during the year. The Perkbusters Cup for drawing attention to misuse of MPs' travel privileges goes to Rodney Hide. David Garrett wins the Softball New Zealand Shield for excellence in umpiring for striking himself out.
Sir Roger Douglas wins the Don Brash Award for Continuing Irrelevance ... or should that be the other way around? And the party's MPs jointly win the Alamein Kopu Trophy for Best Political Farce in Five Acts.
Against tough competition from a few media people, Rodney Hide and Louise Crome win the William and Kate Young Love Crown.
And finally, the Retirement Commissioner's Trophy (and a travel voucher kindly donated by Cathay Pacific) for diligence in promoting Asian-New Zealand business opportunities has been awarded to Pansy Wong.
- additional reporting Herald staff