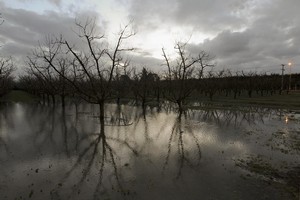 Roads have reopened across the South Island as the clean up continues following the heavy rainfall and flooding earlier this week.
One lane of the Rakaia bridge on State Highway One has reopened this morning following severe flooding on the Rakaia River. Drivers should expect delays.
SH6 between Nelson and Blenheim is also now open after flooding cut the main route between the towns but drivers should continue expect delays from Renwick to Nelson.
James Rd near Collingwood in Golden Bay remains closed after the James Bridge on the Aorere River was washed out.
The river reached record high levels in the worst flooding to hit the region in 150 years.
It can usually be forded on foot during summer, but was flowing at 3500 cubic metres a second at the peak.
The 100-year-old Salisbury Swing Bridge was also swept away, and the river had changed course in the lower Aorere Valley, Tasman District Council spokesman Chris Choat said yesterday.
It was not clear at this stage whether people were cut off, but 25 houses were affected.
Farmers were worst affected in the Pelorus area northwest of Blenheim and the Marlborough Rural Trust was trying to get generators to dairy farmers.
As well, drenched campers were forced to flee the Pelorus Bridge campground as the river surged through the ground, lifting a caravan and tents before receding.
Other parts of Marlborough were also badly hit, including the Rai Valley, Canvastown and Northbank.
One site in the Marlborough Sounds measured 230mm of rain in 24 hours, Mr Wheeler said, and there was extensive flooding of small rivers and streams.
- NZPA