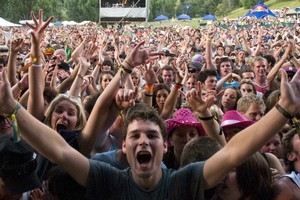 Tents are in short supply in Gisborne as a record 22,000 people descend on the East Coast for the annual Rhythm and Vines festival.
Gale-force winds and torrential rain swept the campsites on Tuesday and campers struggled to keep their tents on the ground in the 100km/h gusts of wind.
Some partygoers were left temporarily homeless in the foul weather and local stores sold out of tents.
Tim Cox, 23, struggled to pitch his tent in the storm and was left out in the cold until friends set up a larger one.
"Mine just snapped in three places. We couldn't put it up in the end because it was so munted.
"Then two girls came down the next day with a larger tent and let me sleep in there. It ended up for the best because now I get to stay with them."
With so many tents destroyed, the Gisborne Warehouse has sold out of small tents.
Duty manager Eva Priestly said the New Year period was usually busy for the store but staff noticed a large increase in tent sales this year.
"We have sold out of all our smaller tents and so have had to refer them on to other nearby stockists like Kathmandu and Bunnings Warehouse.
"It is normally very busy for us at this time of year but I don't think we've sold this many tents [before]."
The three-day Rhythm and Vines festival on New Year's Eve at the Waiohika Estate, just north of Gisborne, attracts thousands of revellers every year.
This year is the largest festival with a record 22,000-strong crowd expected to turn up to see the 100 musical acts which are spread over five stages and three days.
International acts opened the concert last night, including American hip-hop artists N.E.R.D, DJ Carl Cox and local singer Hollie Smith.
Organisers said the festival was running smoothly despite the weather with the only problem so far being the cancellation of a Scottish DJ act.
"Hudson Mohawke unfortunately broke his foot in Australia so won't be able to make it.
"Also, several of the other artists' flights were delayed because of the weather in the UK," a Rhythm and Vines spokesman said.
St John Ambulance is stationed at the music festival and called in 12 extra staff from outside of Gisborne to join the 35-strong crew.
"We see around 700 people over the three days.
"This is the seventh year we've done it and we have a good system which we put back in place every year," manager Shane Clapperton said.
Only a handful of patients were taken to hospital, he said, with 90 per cent of injuries considered minor, such as cuts.