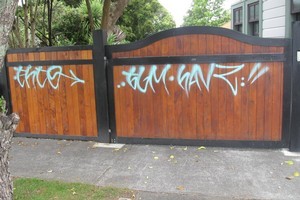 The small Northland holiday town of Waipu has been bombed with graffiti tagging which is expected to cost $15,000 to clean up.
Senior Constable Martin Geddes said the vandalism happened over Sunday night-Monday morning and nearly every one of the 23 business premises on the main road were attacked.
Storefronts, roller doors, wheelie bins, a prominent mural in the middle of town and the public toilets were all spray-painted with three prominent tags: "Echo", "Havik" and "CH".
Some windows were scratched with metre-long tags and costly replacements were likely.
Waipu, population 1500, hadn't had a single graffiti incident in five years, making it an almost foreign occurrence, Mr Geddes said.
"It's the worst it's been in the 10 years I've been here - the town doesn't tolerate it."
Mr Geddes was studying security footage from businesses and three teenage male suspects had been identified.
He believed they were out-of-towners and was hopeful of arrests.
However, the attack could not have come at a worse time as the township is gearing up to host its 140th annual Highland Games on Saturday, New Year's Day.
"Businesses are busy, flat out at this time of the year.
"Some of them aren't going to have time to clean it up. Some of it will be there a while and unfortunately that can encourage more graffiti."
The owner of Waipu Tyres and Automotive, Craig Buckwell, said he'd painted out the vandalism on his premises immediately.
"It's a pain in the arse and it's made the whole town look like s**t."
Coralie Roberts' store, Hammer Hardware, had two windows scratched with the tags.
Both needed to be replaced but Ms Roberts didn't know when she would be able to afford it.
"It's a $1000 excess. It's so tight right now and there is pressure on us."
Local man Brian O'Brien, 68, said he was disgusted with the damage.
"Visually, it's appalling. It's an obscenity, it's awful. It's a lovely community here and people are angry about it all right."
He hoped the police would catch the vandals quickly.
"I care for the place and I can't understand how they get pleasure in wrecking everything.
"We'd love to put them in the public stocks, we'd give visitors to the games a wooden paddle and they could give them a good go on the way in to the [Highland] Games."
The Northern Advocate newspaper reported last month that in Whangarei the District Council conservatively estimated vandalism - including graffiti damage - cost the city more than $500,000 annually.
The council contracts Te Ora Hou to run a "detagging" unit, which removes graffiti from difficult-to-reach places such as high walls, using sandblasting, waterblasting or solvents.
The unit also supervises youths aged up to 17 - some of whom have been caught tagging - who use acrylic paint to cover graffiti.
It's part of a restorative youth justice programme involving police and the Ministry of Justice.
Council official David Palmer said the clean-up unit and the young people had dealt with about 24,000 cases of graffiti in the past six months.
The council also had a partnership with the Probation Service, which had up to 18 adult men and women working seven days a week cleaning up graffiti around city parks and reserves as part of court-imposed community service sentences.
The amount of graffiti they paint over is not recorded, but it increases the number of city clean-up cases to well over 1000 a week.