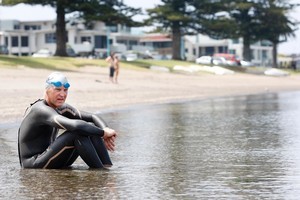 Peter Williams describes himself as an "absolute plodder".
The TVNZ newsreader will be among the athletes competing in the Port of Tauranga half-ironman on January 8 - but his goal isn't speed.
Williams, who said he was "comfortably the last male to finish" in the Tinman triathlon this month, will be happy to see the finish line at next month's event.
It's quite an achievement for the 56-year-old - the event includes a 2km swim, a 90km bike ride and a 21.1km run.
But one advantage Williams has is his familiarity with the course.
Mt Maunganui is his home away from home. He has been spending three days a week in the Bay since March.
His partner, Port of Tauranga corporate services manager Sara Lunam, lives in Mt Maunganui.
"I come down here most weeks for three days," Williams said.
The keen golfer had been enjoying time on the green at Mt Maunganui Golf Club, but golf has been on hold since he began training for the half-ironman.
He knows every rise and bump in the base track around Mauao, and practises swimming on the Pilot Bay course.
Williams said he became inspired to do a half-ironman after watching the Taupo ironman last year.
"I thought 'gee, that's cool'. I was inspired by the guys finishing. Not so much the winners, who are fantastic, but the guys that are real plodders - the ones that take 14 to 15 hours to finish.
"I don't think I could ever spend 14 hours in an endurance event. This one's going to take me about seven - that's probably going to be my limit."
Williams started training seriously in September, though his training schedule went out the window when he was called to report on the Pike River Mine tragedy.
He had intended to swim the Auckland Harbour Crossing swim across the Waitemata on November 21, but instead found himself in Greymouth.
"I can't really say it was disappointing to miss the event when you consider what happened down there."
He stepped up his training to make up for lost time.
The week before Christmas, a typical training day was a four-hour bike ride and a two-hour run - which Williams admitted left him "pretty stuffed".
The training has been good for his waist-line - at his heaviest he weighed 94kg but is now 82kg, and his trouser size has dropped from 36 to 32.
"I eat as much as possible. I don't feel guilty at all about eating sweets or fatty things," he said.
But he follows the advice of a sports nutritionist on what to eat before and during a race.
Williams' hard work is not just for personal satisfaction - he is raising money for the cancer charity Look Good Feel Better.
His wife Cecile, who died of ovarian cancer in 1996, was supported by the organisation.
Williams has raised more than $5600 for the cause through his website petedoesthehalfironman.com.
When he crosses the finish line on January 8, it's unlikely his next goal will be a full ironman.
"That's pretty much it. Maybe I will just keep going in terms of doing basic training to keep fit and keep in shape."
To donate to the charity, go to the site petedoesthehalfironman.com
- APN