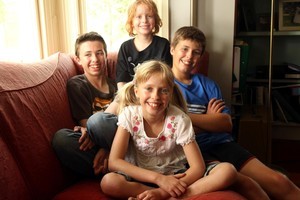 She is the Christmas angel who wanted to help another 9-year-old girl in suffering.
Little Rosie McGregor was so moved after hearing about the horrific abuse suffered by a West Auckland girl that she decided to do something about it.
"I know that she got hurt. I wanted to help her," said Rosie on Christmas Day.
The Devonport schoolgirl came up with the idea to sell her own books, tomato seedlings and geraniums at a street stall.
With the help of her mother Tess, she picked out books that she had already read and prepared the tomato seedlings she had spent hours growing.
"I made some posters and I wrote, 'raising money for children not as lucky as me'."
She spent two hours on Tuesday selling her wares on Vauxhall Rd and went back the following day for four more hours.
The Vauxhall Primary School student took bags of copper, silver and gold coins to Devonport police station on Thursday so it could be passed on to the little girl before Christmas.
Rosie added: "I hope she likes shopping and can go and buy whatever she wants."
Rosie's mum Tess said she tried to teach the children to feel empathy. "Rosie felt like she could make a difference."
Neighbours of the 9-year-old West Auckland girl, alleged to have suffered appalling abuse over a two-year period, remember her as the girl with the sad eyes looking out the window.
She was hardly ever allowed out of her house in Massey, say neighbours, a house whose blinds were barely opened in four years.
On the rare occasion the little girl was seen, she would be looking out of the window, watching the neighbours' children play.
Neighbour Jessica Collins said: "It was like they had been caged."
The Herald on Sunday understands the couple facing assault and neglect charges had five children, ranging in age from 2 to 10 years.
Collins' eldest daughter would see the girl wanting to play.
"We'd always see the girl open the windows and look at us playing," she said. "If they played outside it was just the boys."