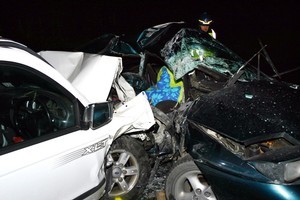 The families of three teens killed in a horror crash are calling for more action to trap long-distance speedsters.
Skella Campbell says the first Christmas without her granddaughter and nephew will be very difficult.
She applauds police plans for point-to-point speed traps that will catch drivers who speed on long stretches of open road.
Mary Jane Kingi-Te Purei, her cousin Te Maungarongo Te Kuiri Kingi and their friend Tiata Maxwell, all 18, were killed after their car collided with a ute on SH2 at Maramarua on September 7.
"Whatever the reason, they paid for it with their lives," said Campbell.
"A lot of deaths on the roads can be prevented ... When you drive you have to look after yourself and others."
Kingi-Te Purei was stopped in Matawhai, near Gisborne, after clocking speeds of 130km/h, and issued with an infringement notice for speeding and for breaching her licence by carrying passengers.
About four hours later, she lost control on an 85km/h bend near Maramarua and the car spun into the path of Ian Anderson's ute. Medical staff told Anderson he was lucky to walk away with just a broken sternum.
Police had concerns about the state of the tyres of Kingi-Te Purei's car but Campbell said it had a current warrant of fitness.
Campbell did not believe the teens had been drinking. Their deaths were still before the coroner and the cause of the crash is still to be determined.
Te Kuiri Kingi had been working for the Gisborne District Council and had planned to move to Australia.
Kingi-Te Purei was a business student at Matapuna Training Centre in Gisborne.
Maxwell had applied to join the Royal New Zealand Navy before she died.
Maxwell's mother Averline said she missed her daughter every day.
"My beautiful angel was stolen from me ... She didn't like speed. She was a bubbly young girl who loved life," she said.
Averline said inexperienced drivers should have their licences suspended when found to be speeding and carrying passengers.
"Deaths on the roads are preventable. Young inexperienced drivers just cruise along and they don't think and innocent lives get taken," she said.