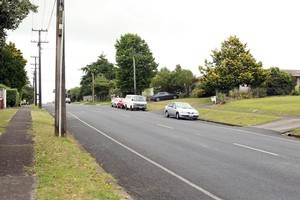 Police were last night hunting a speeding driver who left an Auckland father-of-two to die by the side of the road early on Christmas morning.
Police have been warning drivers to take care on the roads this summer.
But as other families set out on their holiday travels today, the wife and children of 40-year-old Vineshwar Singh are grieving the loss of a "wonderful family man".
Singh died at 12.05am yesterday after a car hit him as he crossed Helvetia Rd in Pukekohe. The speeding car fled the scene.
He had been planning to cook duck for his family for Christmas dinner. Instead, his wife Kirin, daughter Sonam, 16, and son Michael, 12, were yesterday being comforted by friends and family as police appealed for the driver to come forward.
Neighbours Shawn Stewart and Stephanie Ingle were walking home on Helvetia Rd when a car sped past them.
"We were about 50 metres from where [Singh] got hit," Stewart said. "The car went past us. I saw him get hit. Not a good sight."
He said the car pulled over for a couple of seconds then drove off.
Ingle said: "The car was going so fast, unbelievably fast. It would have had to, to kill someone in a 50km/h area."
Anand Kumar said Singh, his brother-in-law, was a friendly man who would help anyone. A panelbeater, he had moved to New Zealand from Fiji about 16 years ago.
"Anybody who needed it he would just help. He was a well-liked person in the community. He liked meeting people and loved children," Kumar said.
"Cooking was his thing. He always cooked for his children and wife. I was just talking to him yesterday and he told me he bought some ducks for Christmas dinner," he said.
Kumar said Singh had returned home after drinking at another brother-in-law's house that evening.
"He just walked down the garden and maybe he fell down or maybe he was crossing the road when the car hit him. He was only 40," Kumar said.
Singh and his daughter had been due to fly to Australia today, Kumar said. "He was going to visit his sister's daughter who had just had an operation for about a month. That's what he did. He would go anywhere to help anyone."
Family from Fiji, the United States and Australia were on their way to New Zealand after hearing of his death.
John Jensen, of Sydney, was staying with his parents for Christmas and watching television at their house across the road at the time of the crash.
"I heard blood-curdling screams that kept on going and going. I went out and heard a guy yelling at cars to slow down then I saw a body lying on the road," he said.
He saw a large quantity of blood from Singh's extensive injuries.
"About 10 people had gathered and a woman who said she was a nurse tried to administer CPR," he said. "He was alive when I saw him but he passed away about 15 minutes after I showed up."
Jensen thought it took too long - about 20 minutes - for the ambulance to arrive.
"An elderly woman, who I think was his mother-in-law, fainted when they put a sheet over him," he said.
St John spokesman Brett Tobeck said they got the call at 11.59pm.
"It took us 13 minutes to get there. The local ambulance was on another job so Waiuku responded," he said.
Singh had a cardiac arrest and died at the scene, Tobeck said.
Singh's neighbour Sarah Dean said she heard the hit and run.
"I was lying in bed awake when I heard the thud," she said. "I heard the car going quite fast. I don't think it stopped at all. We are used to cars speeding all the time on this road."
Inspector Matt Sillars said police had no description of the car but it would possibly have some frontal damage caused by the impact.
"Anyone who may have witnessed the crash or who has any information on the vehicle involved are asked to urgently contact the police," he said.
Meanwhile, a 44-year-old woman died after her car crashed into a power pole in Mosgiel, near Dunedin, about 9.30 on Friday night, police said.
The holiday road toll started at 4pm Friday and runs until 6am on January 5. Last year 13 people died on the road during that period.