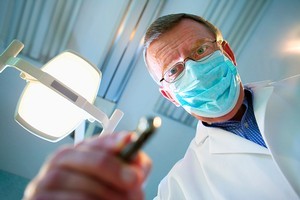 A trip to the dentist could soon be a lot less painful for those who fear the chair - and the needle.
An anaesthetic Nasal spray has been developed, which could replace injections for many dental procedures.
The technology, which has been developed in the United States, could be launched in New Zealand and worldwide in the next five to 10 years, said US researcher Leah Hanson.
The spray would be "particularly good for those patients who have a fear of needles", she said.
The Nasal spray was likely to be used for routine dental work such as replacing a filling, drilling, oral cavity work and toothache - any procedure for which you would typically need an injection.
It is administered into the nose and moves along the nerves and directly to the brain.
Christchurch accountant Claire English, 29, said the technology would make her annual trip to the dentist much less stressful.
"I hate injections. It would definitely be better - you won't have to have the needle."
Auckland endodontist Sara Jardine, who specialises in root canals, said she was looking forward to offering the pain-free option to her patients.
"For people with needle-phobia it will be great - and especially for kids," she said.
The sensation would be similar to taking a Nasal decongestant and would take about the same amount of time to numb the mouth as an injection, said Hanson.
However, it would only be effective for procedures with upper teeth because of links between the nerve supply and the sinus, said New Zealand Dental Association executive officer Graham Symes.
He said the technology had the advantage of being pain-free, simple to administer and was a "blanket approach" to giving a local anaesthetic through the sinus to patients.
However, you could not target specific areas with the Nasal spray and the taste down the back of the throat was likely to be unpleasant, said Symes.
Researchers were also considering using spray in conjunction with injections for more invasive procedures.
Further testing was required before the spray was accepted into practice, said Hanson.