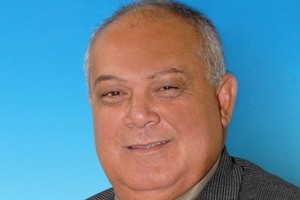 The chairman of one of Auckland's local boards has been given an ultimatum by council - get resource consent for illegal garage extensions or pull them down.
Leau Peter Skelton, chairman of the Mangere-Otahuhu local board, has been issued a notice by the Auckland Council for having additions to his garage for which he doesn't have resource consent.
Council officers visited Skelton's home last month after complaints from a member of the public.
Skelton said he added to the 11 Quennell Ave property 15 years ago to house his large family and the additions were since filled with junk.
He admitted he hadn't sought consent for work to the garage. He said he would pull it down if required.
"I know I didn't have consent for it," he said. "Only a little bit was added. I thought it didn't need any consent.
"I'm dealing with it and whatever the council decides, if they want to pull it down, that's fine with me."
He said a person of his standing should have known better.
"I should be aware of that now that I'm in a high-profile position. Now I know these things need consent."
He said it would not affect his standing at council and it had not undermined his credibility as chairman of the board.
"This is my own personal problem. I've notified most of the members. Everyone's quite fine as long as I let them know."
Skelton hasn't decided yet whether to get resource consent for the additions or take them down.
"[The council] has given me two months so I'm in the process of contacting people who are going to look at it and go from there.
"At the moment people are all going on holiday but hopefully I'll get something done in the new year."
Council spokesman Glyn Walters said council had received a complaint from a member of the public and the matter was under investigation.
It was inappropriate to comment further until the investigation was completed, he said.
Former community board member Ken Taylor said Skelton's lack of knowledge "really makes a mockery of council laws and bylaws.
"I don't think it's acceptable for a man of that position to break council rules. It sets a very poor standard," Taylor said.